Baileys No. 6 All-Round Endurance Mix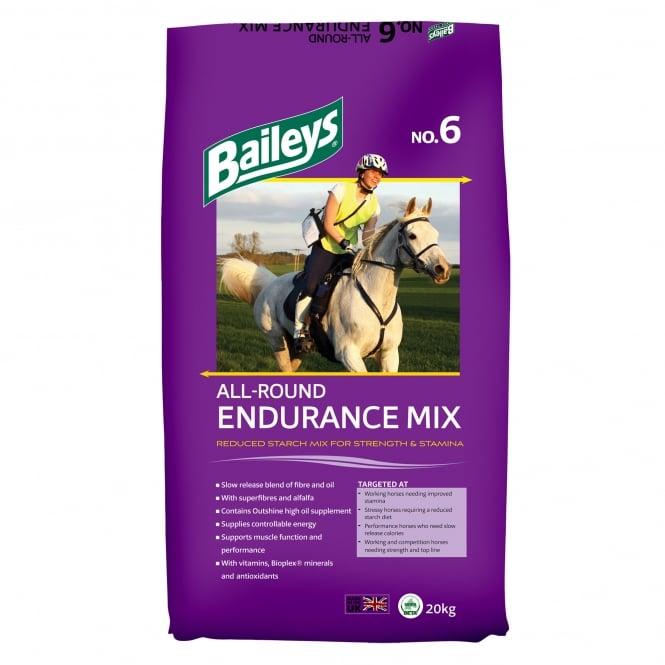 by Baileys
Code: 2972588 :
Baileys No.6 All-Round Endurance Mix is a high fibre, high oil formula that provides a slow release of energy, this is essential for improving the stamina in endurance horses. This mixture is particularly appetising & contains an Alfalfa blend along with soya hulls & sugar beet pulp which promotes excellent levels of stamina & also help reduce recovery times. As with a wide range of Baileys products the proteins used are of superior quality promoting outstanding muscle tone, whilst a superior chelated vitamin & mineral profile support performance at the highest level.
Key Features
For horses in moderate to hard work
High fibre, high oil formula
Promotes the slow release of energy for endurance horses
Ingredients: Micronised Barley, Micronised Wheat, Soya (Bean) Hulls, Alfalfa &?Oat Straw Chaff, Alfalfa Meal, Molasses, Distillers Grains, Micronised Soya Beans, Soya Oil, Wheatfeed, Micronised Maize, Ground Beet Pulp, Oatfeed, Cooked Linseed, Vitamins and Minerals, Dicalcium Phosphate, Calcium Carbonate, Sodium Chloride, Calcined Magnesite, ScFOS (Digest Plus prebiotic), Yea-Sacc ® yeast culture
Analytical Constituents: Protein 12%, Oil 10%, Fibre 12%, Ash 7.25%. Digestible Energy 13MJ/kg.