Baileys No.5 Yearling Cubes 20kg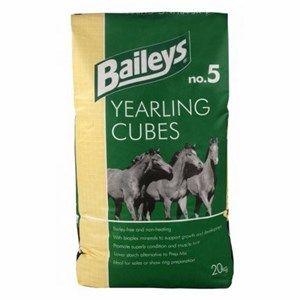 SPECIAL ORDER ITEM: ALLOW UP TO TWO WEEKS FOR DELIVERY

Baileys No.5 Yearling Cubes are a digestible & nutritious feed that is especially useful for preparing young stock for the sales or show ring as well as thoroughbred yearlings going into training as two year olds. These digestible & energy dense cubes allow all of the required energy & nutrients to be supplied in a smaller volume which is also non-heating, this prevents the digestive system from being overloaded with starch. Yearling Cubes are made without barley & are great for promoting extra muscle tone & condition as the horses continue to develop.
Easy to digest & energy dense
Provides essential levels of nutrients
Doesn't overload the digestive system
Analytical Constituents
Digestible Energy 13.5 MJ/kg, Protein 15%, Oil 4%, Fibre 9.0% & Ash 7.5%
Composition
Micronised Wheat, Wheatfeed, Grass Meal, Soya (Bean) Meal, Oatfeed (by-product of the oat milling industry), Molasses, Extracted Sunflower Meal, Micronised Soya, Calcium Carbonate, Vitamins and Minerals, Soya Oil, Dicalcium Phosphate, Sodium Chloride, Calcined Magnesite, ScFOS (Digest Plus prebiotic)
LIFESTAGE: Stud