Baileys No.8 Meadow Sweet with Turmeric 15kg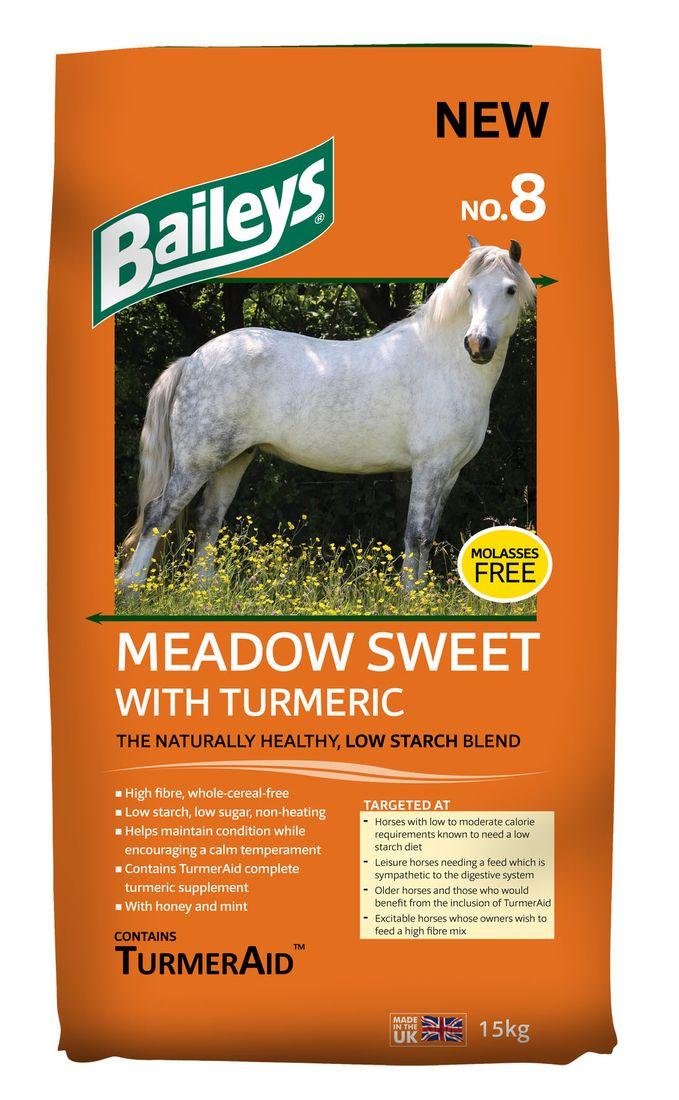 by Baileys
Code: 2972669 :
What IS Baileys Meadow Sweet with Turmeric?
Low Starch (7.5%) - no whole cereal flakes
Low Sugar (5%) - with a delicious light coating of honey
Molasses free!
High fibre (20%) - From a combination of natural digestible fibre sources
Low Energy (DE 10MJ/kg) - Meadow Sweet's non-heating, slow release calories will help maintain condition while encouraging a calm temperament.
Fully Balanced - Contains quality protein sources to build and maintain muscle and is fully balanced with vitamins and minerals to support those at rest or in light to moderate work
TurmerAid - If you're already a fan of turmeric, you'll love TurmerAid! Developed by The Golden Paste Company, this pioneering mess-free supplement contains top quality turmeric alongside a combination of black pepper, linseed oil and apple cider vinegar.  
Who's it For? 
Horses with low to moderate calorie requirements known to need a low starch diet
Meadow Sweet with Turmeric's low starch and sugar contents make it ideal for those prone to laminitis or who need to control their starch intake for other reasons. Its calorie content means that overweight horses or good-doers would be better suited to Baileys Lo-Cal Balancer, however.
Leisure horses needing a feed which is sympathetic to the digestive system
Dietary starch, from cereals, can increase acidity levels in the stomach and digestive system. Meadow Sweet with Turmeric contains no whole cereal flakes and has a low starch content which, along with its high fibre content, means it is sympathetic to gastric and digestive health. Honey also provides natural sugars which have a prebiotic effect, while a dusting of mint tempts fussy feeders.
Older horses and those who would benefit from the inclusion of TurmerAid
Some older horses need a low starch diet, while still having moderate calorie requirements. The inclusion of TurmerAid is also particularly appropriate for supporting joint and general good health and, when fed at recommended levels, Meadow Sweet with Turmeric will deliver the appropriate daily levels of TurmerAid complete turmeric supplement.
Some low energy mixes still have a high cereal content, which can be a bit much for excitable types. Meadow Sweet with Turmeric's digestible fibre sources and soya oil provide slow release calories to maintain condition while encouraging a calm temperament.
Low starch, high fibre feeds often contain beet pulp and require soaking before feeding. Meadow Sweet with Turmeric is ready to feed and requires no additional chaff or beet, although these may be added, if desired.
Composition                                                    
Oatfeed (high fibre co-product of the oat milling industry), Wheatfeed, Alfalfa Meal, Micronised Peas, Distillers' Grains, Oat Straw Chaff, Beet Pulp, Alfalfa Chaff, Soya Oil, Nutritionally Improved Straw, Micronised Soya, Honey (1.5%), Soya Hulls, Dicalcium Phosphate, Calcium Carbonate, Sodium Chloride, Turmeric, Vitamins and Minerals, Calcined Magnesite, Micronised Linseed, Mint (0.1%), Apple Cider Vinegar, Black Pepper.