Beta Puppy Large Breed 14kg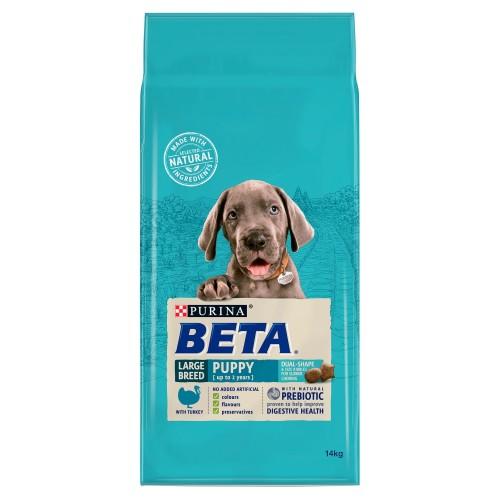 by Beta
Code: 2971853 : 7613034460448
BETA Large Breed Puppy turkey and rice dog food is specially developed to provide your puppy with all the necessary nourishment it requires. . Puppies expected to weigh more than 25kg in adulthood have more rigorous nutritional requirements than other dogs, which is why BETA Puppy Large Breed contains Vitamin D to help strengthen their growing bones. A complete pet food full of antioxidants like vitamins C & E, which fortify your furry new friend's immune system and help them to grow into a strong and healthy adult. Rich in the goodness your puppy needs to stay in prime condition, such as chicory, a natural prebiotic which aids the balance of friendly bacteria in your pet's stomach and helps keep general puppy upsets at bay.
BETA Puppy is made with BETA's unique dual kibbles, shrunk down to suit growing mouths. Dual Kibbles are designed to encourage chewing, which increases nutrient absorption and reduces tartar. As well as turkey, a fantastic source of protein, BETA Puppy is also made with a mix of fast and slow burning wholegrain cereals to provide your puppy with energy to last all day long! 
Recommended for Large breed puppies aged between 1 to 24 months                                                                                      
Ingredients: Cereals (wholegrain 48%), Meat and animal derivatives (16%), Oils and fats, Derivatives of Vegetable Origin (of which 0.07% Dried Parsley), Vegetable Protein Extracts, Vegetables (1.1% Dried Chicory Root, 0.07% Dried Carrot, 0.07 Dried Spinach), Minerals.
Nutritional Information: Protein 28.0%, Fat content 14.0%, Crude ash 7.5%, Crude fibres 2.5%, DHA 0.05%