Burns Original Chicken & Brown Rice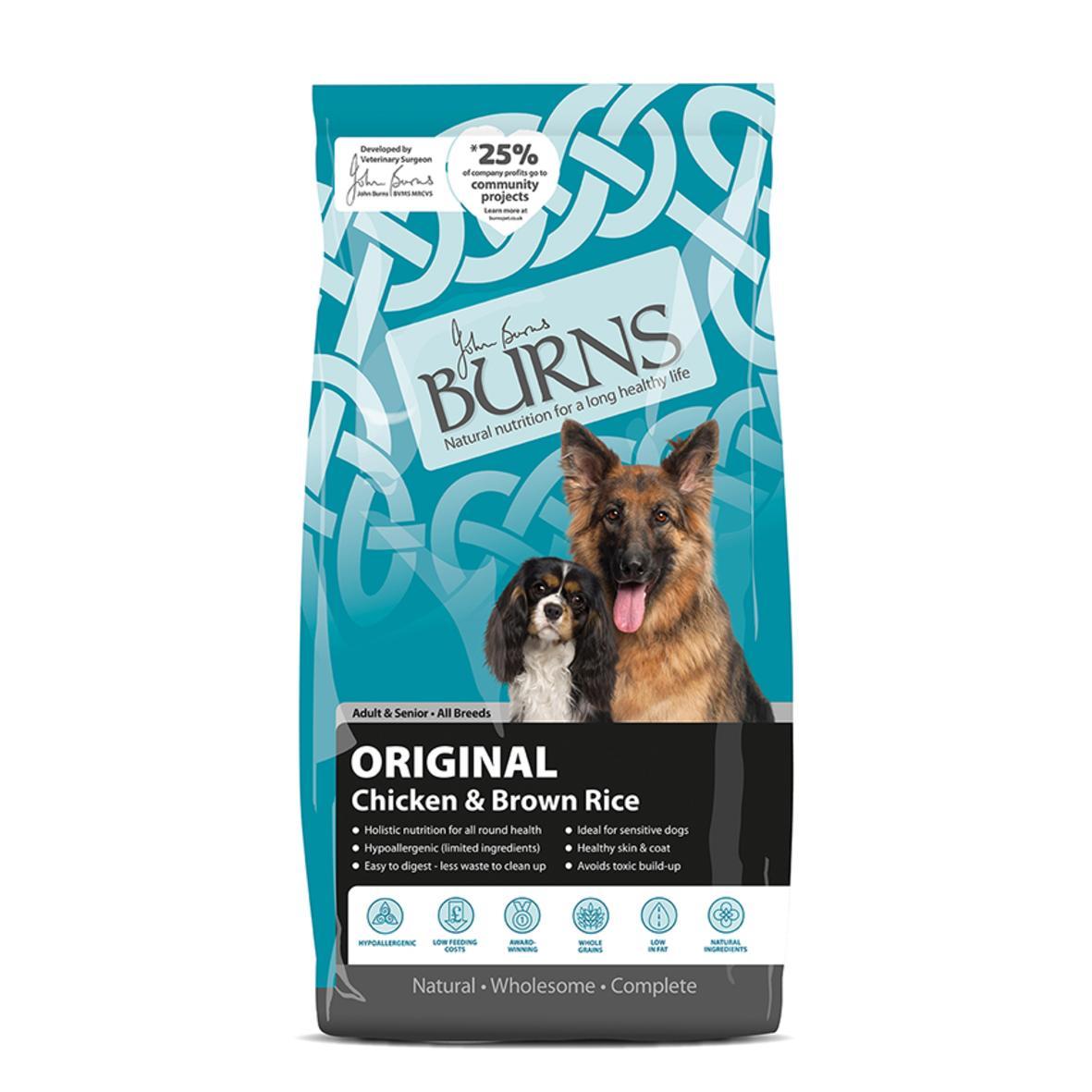 Description

Nutrition

Reviews
Burns Original with Chicken & Brown Rice Dog Food contains all the nutrients a dog needs and avoids those which cause the build-up of toxic waste in the system.
Formulated without ingredients such as wheat, soya, dairy, artificial colourings and artificial preservatives which are known to cause symptoms of food intolerance including itchy skin, digestive upset, excessive moulting, full anal glands and waxy ears.
Hypo-allergenic & formulated without wheat gluten
No added wheat, beef or dairy
Suitable for dogs with sensitive skin
Composition
Brown Rice (67%), Chicken Meal (20%), Oats, Peas, Chicken Oil, Sunflower Oil, Seaweed, Vitamins & Minerals.
Analytical Constituents
Crude Protein 18.5%, Crude Oil & Fats 7.5%, Crude Fibre 2.2%, Crude Ash 6.0%, Moisture 8.0%, Copper 18mg/kg, Sodium 0.13%, Calcium 1.15%, Phosphorus 0.70%, Magnesium 0.10%, Potassium 0.32%, Chloride 0.20%, Sulphur 0.27%, Essential Fatty Acid 2.09%
Additives:
Vitamin A 25,000 iu/kg, Vitamin D3 2,000 iu/Kg, Vitamin E 100 iu/Kg, Calcium Iodate Anhydrous 1.5mg/kg, Cupric Sulphate Pentahydrate 55mg/kg, Sodium Selenite 0.6 mg/kg, Ferrous Sulphate Monohydrate 160mg/kg, Manganous Sulphate Monohydrate 100mg/kg, Zinc Sulphate Monohydrate 130mg/kg.