Voted 'Best New Product' by the UK pet industry shortly after it was launched, the Canny Collar has a revolutionary 'behind-the-head' design, making it easy to fit and simple to use, transforming even the worst pullers into happy, well-behaved pets. It is the favoured training head collar of the UK Association of Guide Dogs for the Blind and used by trainers, training schools, rescue shelters, veterinarians and dog owners alike. Unlike other dog head collars, it does not yank your dog's head to one side, nor ride up into his eyes.
Available in seven sizes to fit all breeds of dog and four colours to delight their owners! A snug fit is essential for any dog head collar.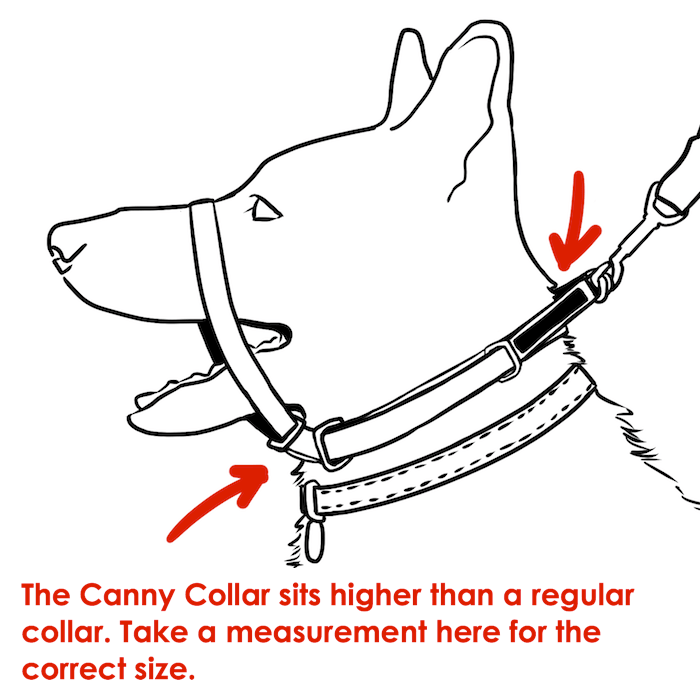 Size 1 : 23-28cm
  Size 2:  28-33cm
Size 3: 33-38cm
Size 4: 38-43cm
Size 5: 43-48cm
Size 6: 48-53cm
Size 7 : 53-58cm
Colossus: 58-69cm


Sizes for common breeds
Below is a list of some common breeds and the corresponding size of Canny Collar that would typically fit an adult male dog. Younger dogs or females may need a smaller size. Please note that this is an approximation only and that the most accurate way to ensure you choose the correct size for your dog is to use the measuring method as described above.
If your dog's neck measurement falls exactly between two sizes, our experience shows that the best option is normally to choose the smaller of the two sizes to ensure a good fit.
| | |
| --- | --- |
| Breed | Size |
| Akita | 5 or 6 |
| Beagle | 3 |
| Bearded Collie | 4 |
| Border Collie | 3 or 4 |
| Boxer | 4 or 5 |
| Bullmastiff | 5 or 6 |
| Cocker Spaniel | 3 |
| Dalmatian | 4 |
| Doberman | 3 or 4 |
| German Shepherd | 4 or 5  |
| Golden Retriever | 4 to 6  |
| Great Dane | 6 or 7  |
| King Charles Cavalier |  1 |
| Labrador Retriever |  4 or 5 |
| Mastiff - large | 7  |
| Newfoundland | Colossus  |
| Rhodesian Ridgeback |  4 or 5 |
| Rottweiler | 5 or 6  |
| Springer Spaniel | 3  |
| Staffordshire Bull Terrier | 3 or 4  |
| St Bernard | Colossus  |
| Terrier - Jack Russell, Westie etc | 1 or 2  |