Dengie Alfalfa Pellets 20kg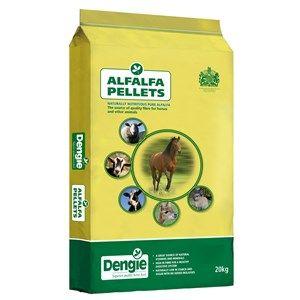 by Dengie
Code: 2972723 :
Dengie Alfalfa Pellets are an easy way of providing fibre to horses in a concentrated form without any added sugar. Alfalfa is exceptionally low in starch yet rich in calcium & other naturally occurring vitamins & minerals reducing the risk of nutrient deficiencies occurring.
No added sugar & low in starch
Rich in calcium & other vitamins & minerals
Provides fibre in a concentrated form
You can feed the pellets using a range of different methods, whether they are soaked or put in a snack ball the horse is sure to enjoy them.
Analytical Constituents
Digestible Energy 10 MJ/kg, Protein 16%, Oil 2.5%, Ash (mineral) 10%, Fibre 23%, Sugar 5% & Starch 3%
Composition
100% Alfalfa.