Tribal Fresh Pressed Grain Free Puppy food 2.5kg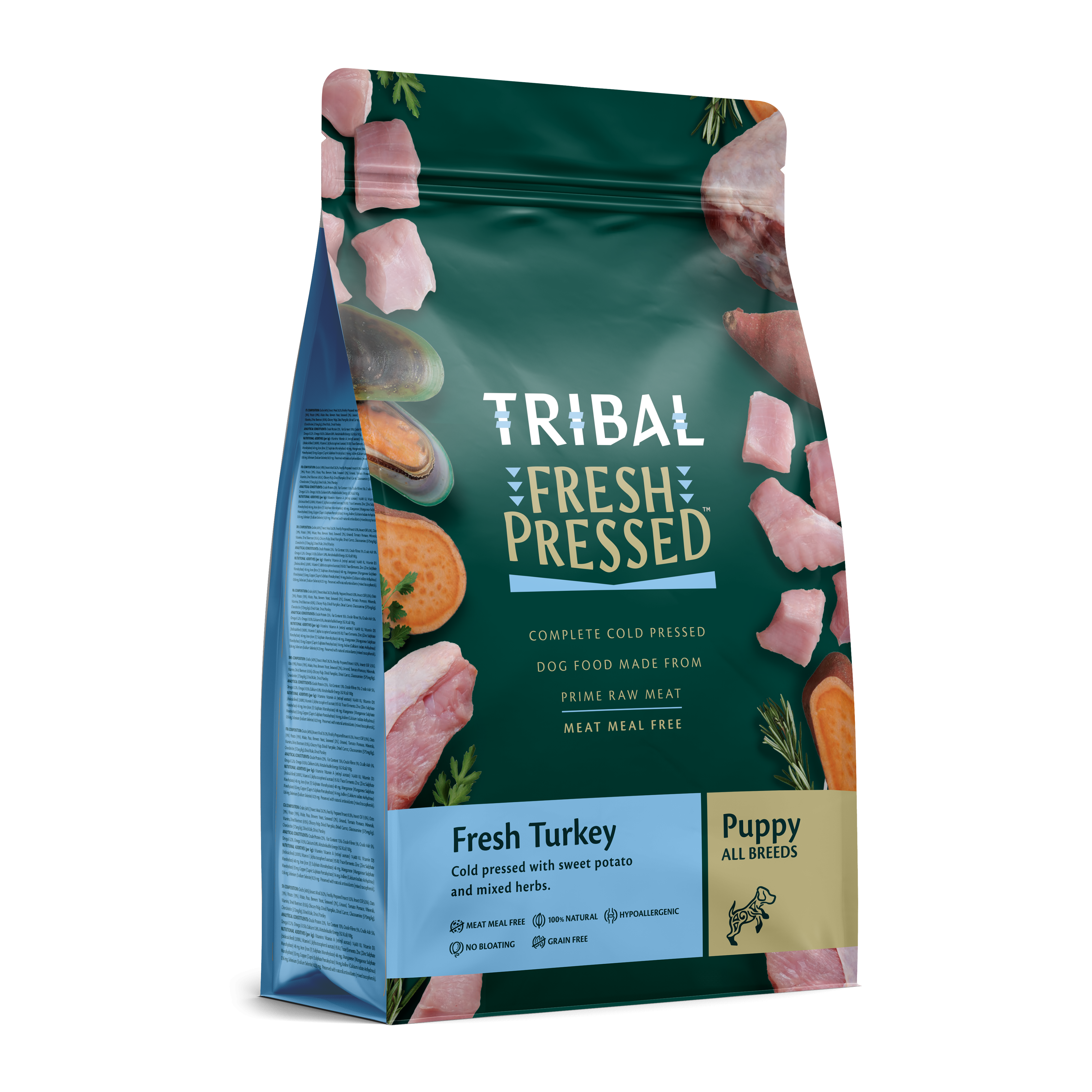 by Tribal Pet Foods
Code: 7209155 : 5060372411700
Description

Nutrition

Feeding Guide

Transition Guide

Reviews
Tribal dog food is fresh, cold pressed dog food made with fresh meat, fish and vegetables to provide your dog with all the essential vitamins and nutrients they need in their diet. All the food in Tribal's range is grain free and hypoallergenic which means if you're concerned about your dog's digestion or they've got a sensitive tummy, this might be the ideal food for them.
Key Benefits
Grain free, cold pressed complete dog food with fresh turkey specially developed for growing puppies
Contains the right ratio of calcium to phosphorus to support the growth and development of large breed puppies
No swelling or bloating
Hypoallergenic recipes free from known allergens such as chicken, beef, grains and peas
Fully recyclable packaging and resealable bags
Composition: Fresh turkey (35%), Sweet potato (35%), Blue whiting fish (hydrolysed) (14%), Whole egg (6%), Beet pulp, Sunflower oil (1.35%), Brewer's yeast (1.2%), Salmon oil (1%), Inulin (source of prebiotic FOS), Herbal blend (0.25%; Parsley, Rosemary, Nettle, Chamomile, Sage, Thyme, Coriander leaves, Dandelion leaves, Liquorice).
Analytical Constituents: Crude protein 25%, Crude fat 11%, Crude fibre 2.3%, Crude ash 6.4%, Vitamin A 17600 IU/kg, Vitamin C 58mg/kg, Vitamin B6 7.5mg/kg, Omega-3 3.1g/kg, Omega-6 16.1 g/kg, Calcium 0.9%, Phosphorus 0.6%, M.E. kCal 370.6 kCal/100g.
Nutritional Additives: Vitamins & trace elements: Vitamin A 17500 IU/kg, Vitamin D3 1750 IU/kg, Ferrous sulphate monohydrate 87 mg/kg, Manganous oxide 56 mg/kg, Cupric sulphate pentahydrate 4.7 mg/kg, Zinc sulphate monohydrate 87 mg/kg, Calcium iodate anhydrous 2mg/kg, Sodium selenite 0.2mg/kg. Antioxidants: Tocopherol-rich extract of natural origin

For dog's fed on two meals per day:
DAYS 1-3
Introduce Tribal Fresh Pressed as a treat, using sparingly at first but gradually increasing the amount given over three days (no more than 10% of their daily amount). If your dog is on a strict diet you may need to reduce the amount of their old food that they are receiving over these days.
DAYS 4–6
Swap their breakfast meal over to Tribal Fresh Pressed, one half of their daily allowance. Continue to feed their old food for their evening meal.
DAY 7
Feed 100% Tribal Fresh Pressed
For dogs or puppies fed on more than two meals per day:
Follow the guidelines above but allow additional days to switch additional meals over. If your dog tends to have a sensitive tummy we advise extending each stage of the transition period.