Mikki Mighty Muzzle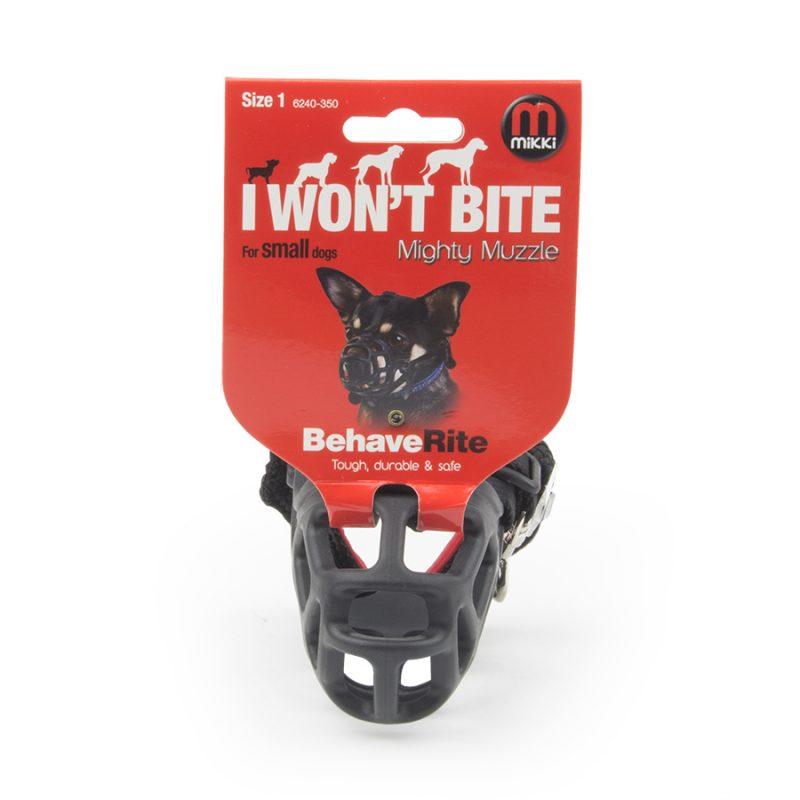 Description

Size Guide

Fitting Instructions
The Mighty Muzzle is a tough, durable and  comfortable basket muzzle that provides maximum safety. It will allow your dog to pant, drink and treat train with the uniquely designed bar spacing which forms the muzzle. This easily adjustable product comes with a webbed adjustable strap with high quality buckle, as well as a over-the-head chrome plated spring hook, to allow this muzzle to fit any sized neck. The neck strap is made from neoprene material to provide additional comfort for your dog. The muzzle also has a collar attachment to prevent your dog from pulling it off.
If your pet is keen on chasing other animals or shows predatory signs, then a muzzle can prevent injury or death. Legally, if the dog bites he MUST be on lead for everyone's safety. A Mikki Multi Lead can be used as a double ended lead, so you can attach to a collar, headcollar or harness and prevent lunging. Alternatively, you can also use a Mikki Recall Training Lead, which allows your dog to exercise without the risk he will rush up to a person or dog and attack.


Mighty Muzzle
Inhibits biting, chewing & barking
Strong material provides maximum security
Allows panting, drinking and treat training
Collar attachment to help prevent removal by dog
Can be moulded to best fit a dog's muzzle by warming in hot water then cooling in cold
Size Guide:

Size 1 X-Small  (12 cm Max Nose Size) - Yorkshire terrier , Toy Poodle , Miniature Dachshund , Papillons
Size 2 Small (15cm Max Nose Size) - Bichon Frise , Cavalier King Charles , Maltese , Jack Russell , West Highland Terrier
Size 3 Medium  (20cm Max Nose Size) - Beagle, Cocker Spaniel, Scottish Terrier, Border Collie, Staffordshire Bull Terrier
Size 4 Large (25cm Max Nose Size) - German Shepard , Dalmation , Doberman , Boxer , Labrador 
Size 5 X-Large (29cm Max Nose Size) - Newfoundland , Rottweiler , Bull Mastiff , Rhodesian Ridgeback , Great Dane , Golden Retriever
Size 6 XX-Large (36cm Max Nose Size) - St. Bernard , Bloodhound , Irish Wolfhound 
Bitches and young dogs may need a smaller size.
Allow enough space for you to slide one finger inside the muzzle, round the side of your dog's nose. This will enable them to pant, drink and for you to give titbits during training sessions. Practise putting the muzzle on, then reward and praise your dog to encourage it to relax. Secure the overhead strap to the collar or neck strap.
When first introducing the muzzle to your dog, only put it on for short periods of time, building up until it is used to it and comfortable with how they feel.
Make sure:
● You have the right size muzzle for your dog
● The muzzle is only used for safety and restraint – not punishment
● You do not use for prolonged periods or during strenuous exercise
● You do not leave your muzzled dog unattended
MUZZLES SHOULD NOT BE WORN DURING STRENUOUS EXERCISE