Eden Joint Support Supplement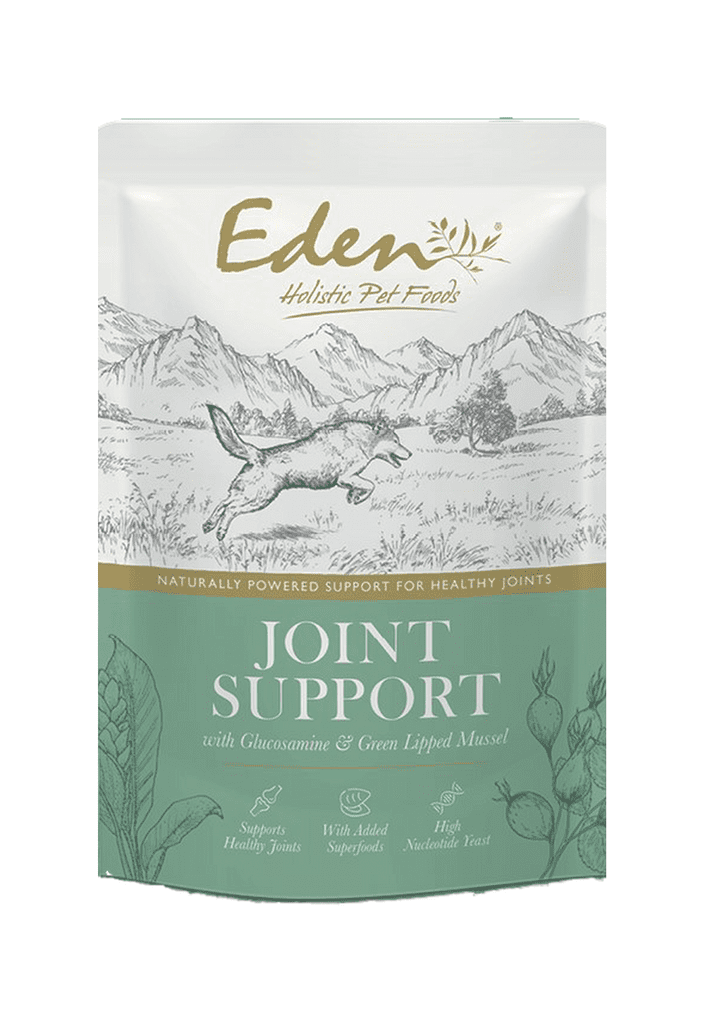 by Eden Holistic
Code: 9175736 : 5060438810751
Description

Compostition

Feeding/Dosage Guide

Reviews
Eden Joint Support is a unique formulation combining the nutritional benefits of Green Lipped Mussel, Glucosamine, Chondroitin and MSM with the cellular regeneration properties of Ascogen® High Nucleotide yeast extract and a range of natural herbs and plants including; Yucca Schidigera, Seaweed, Glucosamine, Rosehip, Turmeric, Pepper and Beta-glucans. 
Joint Support can be fed to dogs of all ages as a way of supplementing the Eden range of high meat content foods or alongside other foods, ideal for dogs who are susceptible to joint problems, working and sporting dogs that are active in their daily lives, agility and competitive dogs and dogs in their senior years to aid freedom of movement. 
Key benefits of Joint Support :
Formulated to support and maintain freedom of movement in all dogs. 
Easily combined with the Eden range of high-quality foods. 
Hemp and Oat nutrient delivery system. 
Nutritional benefits of Glucosamine, Chondroitin and MSM
Ascogen® high nucleotide yeast extract is a unique feed supplement which optimises the metabolism of gastrointestinal, liver, glandular,    iintestinal flora and immune cells.
 A natural range of herbs blended to support the muscular-skeletal system, including Yucca Schidigera, Seaweed, Glucosamine, Rosehip, Turmeric, Pepper and Beta-glucans. 
Manufactured as a pellet that can be mixed directly with food or added to a small amount of warm water to form a paste. 
When to Use Joint Support Arthritis and joint pain.
As a preventative measure for very active dogs. 
After an operation or injury to support recovery. 
General aches and pains due to aging.
Composition: Hempseed meal, micronized beet pulp, micronized naked oats, yucca schidigera (10%), Ascogen® (as a source of high nucleotide yeast extract; 10%), dried seaweed (10%), glucosamine (2.5%), chicory root (as a source of fructo-oligosaccharides (prebiotic FOS; 2.5%)), dried rosehips (2.5%), turmeric powder (2.5%), oat bran fibre (2.5%), sunflower oil (2.215%), methylsulphonylmethane (MSM; 1.25%), chondroitin sulphate (0.7%), green lipped mussel powder (0.625%), yeast (as a source of beta-1,3/1,6-glucans; (0.2%)), minerals, mono and di-glycerides of fatty acids, Pepper Oleoresin 0.01%
. Analytical Constituents:: Crude Protein 15.5%, Crude Fat 6.8%, Crude Fibre 13.4%, Crude Ash 8.3%, Calcium 0.34%, Phosphorus 0.35%, Omega 3 0.36%. 
Additives (per kg): Bentonite 2000mg.
 INGREDIENTS BENIFITS: 
Hemp Seed Meal Hemp seeds are "The Omega" super foods. They contain Omega 9 in the form of oleic acid; Omega 6 in the form of linolenic and gamma linolenic acid; and all-important Omega 3 in the form of alpha linolenic acid. High levels of amino acids, gluten-free protein, chlorophyll, and vitamins E and C. Hemp seeds are often recommended to help improve digestion, relieve joint pain and inflammation, and support cardiovascular wellness. 
Micronized Beet pulp: A natural prebiotic supporting friendly bacteria in the gut, it is also a valuable source of high digestible pectin fibre. It supports the lining of the gut and is also a good source of uronic acid, found in hyaluronic acid which is good for the joints. 
Micronized Naked Oats: Part of the high quality oil based delivery system, aimed at providing support for the gut and immune system and as an aid for adsorption of joint supports' active ingredients. 
Yucca Schidigera: Yucca root contains notable quantities of vitamin C, beta-carotene, calcium, iron, magnesium, manganese, niacin, phosphorous, protein, and B vitamins, this herb's greatest nutritive and healing powers are chiefly attributable to a group of compounds collectively known of as saponins, which are found in the root of yucca. Saponins are plant glycosides, which play a role in aiding absorbtion and can help reduce the emission of noxious odors in urine and feces. Yucca root also possesses sarsasapogenin, smilagenin, and various other compounds that are loosely known as "phytosterols." Which stimulate the production of natural corticosteroids and corticosteroid-related hormones, which actually support the immune system
Ascogen (High nucleotide yeat extract): 
A unique high nucleotide yeast extract, which optimises the metabolism of gastrointestinal, liver, glandular, intestinal flora and immune cells
 Dried Seaweed: aiding in inflammation of the dogs joint, and also helps to promote a healthy coat, inchancing immunity and energy as well as improve digestion. 
Glucosamine: Glucosamine is an amino sugar that naturally occurs in the connective and cartilage tissues and contributes to maintaining the strength, flexibility and elasticity of these tissues. However, due to injury or just normal wear and tear that happens with age, the body cannot naturally synthesize enough to keep up with the bodily needs. This is when Glucosamine for dog or cats supplementation is advisable. Glucosamine increases the concentration of proteoglycans (large protein molecules) in cartilage and the synovial membrane which produces the fluid lubricating the joints. Also, Glucosamine may support the repair of damaged cartilage by increasing collagen deposition, providing joint care for dogs and cats.
Chondroitin: Chondroitin is one of the building blocks found in cartilage around joints in the body. supplementation can be used to enhance the shock-absorbing properties of joint cartilage and block enzymes that break down cartilage. 
Green lipped mussel: Green-lipped mussels are a rich source of glucosamine and chondroitin, vitamins C and E, antioxidants, and minerals such copper, zinc, and selenium.
Chicory Root: A natural probiotic helping to aid and support the healthy bacteria in the gut
 Rosehip: Rosehip is a true "super Fruit", rich in important nutrients such as vitamins A, E, K, B1, B2, B3, B6 and especially vitamin C, as well as pectins and tannins, contributing to your animal's performance and vitality. Due to its collagen synthesis, it a valuable supplement for joint support. 
Tumeric Powder: A medicinal quality turmeric containing quality curcuminoids for traceable sources. Turmeric has naturally occurring anti-inflammatory and pain relief properties. And absorption is significantly increased when taken with piperine, an ingredient naturally found in black pepper 
Pepper Oleoresin: Provides a sourse of pepperine enhancing the bioavailability of tumeric Oat bran: Oat bran is one of the highest sources of natural fibre in the diet and is also a rich source of minerals such as manganese, iron, phosphorous, selenium and calcium. 
Sunflower Oil: Sunflower seeds are brimming with nutrients. They're a powerful source of phytosterols, which are thought to help reduce blood cholesterol levels, control inflammation, support heart function, and enhance immunity. They're also an excellent source of selenium, magnesium, vitamin E, manganese, phosphorus, copper, folate, and several B-vitamins. 
Methylsulphonylmethane: Methylsulfonylmethane, (MSM), is a popular dietary supplement used to treat a wide array of symptoms and conditions. It's a sulfur-containing compound found naturally in plants, animals and humans. MSM is widely used in the alternative medicine field and by people looking for a natural way to relieve joint pain, reduce inflammation and boost immunity. 
Bentonite: Bentonite is a green clay which has been used to eliminate parasites, supports the immune system by balancing pH levels and supporting healthy intestinal flora and provide detoxification properties
Whether used to maintain healthy joint mobility or to probvide full support, Eden Joint support can be fed to all dogs from any age or size.
Simply mix with your dog's normal feed.
Measure (10g) included
Feeding guide:
Dog Size, 2.5-15kg, 2.5gm/day, maintenance, 5gm/day full support
Dog Size, 15-30 kg, 5gm/day, maintenance, 10gm/day full support
Dog Size,30+ kg, 10gm/day, maintenance, 20gm/day full support