Forthglade Complete Meal Adult Chicken with Liver & Brown Rice & Vegetables 395g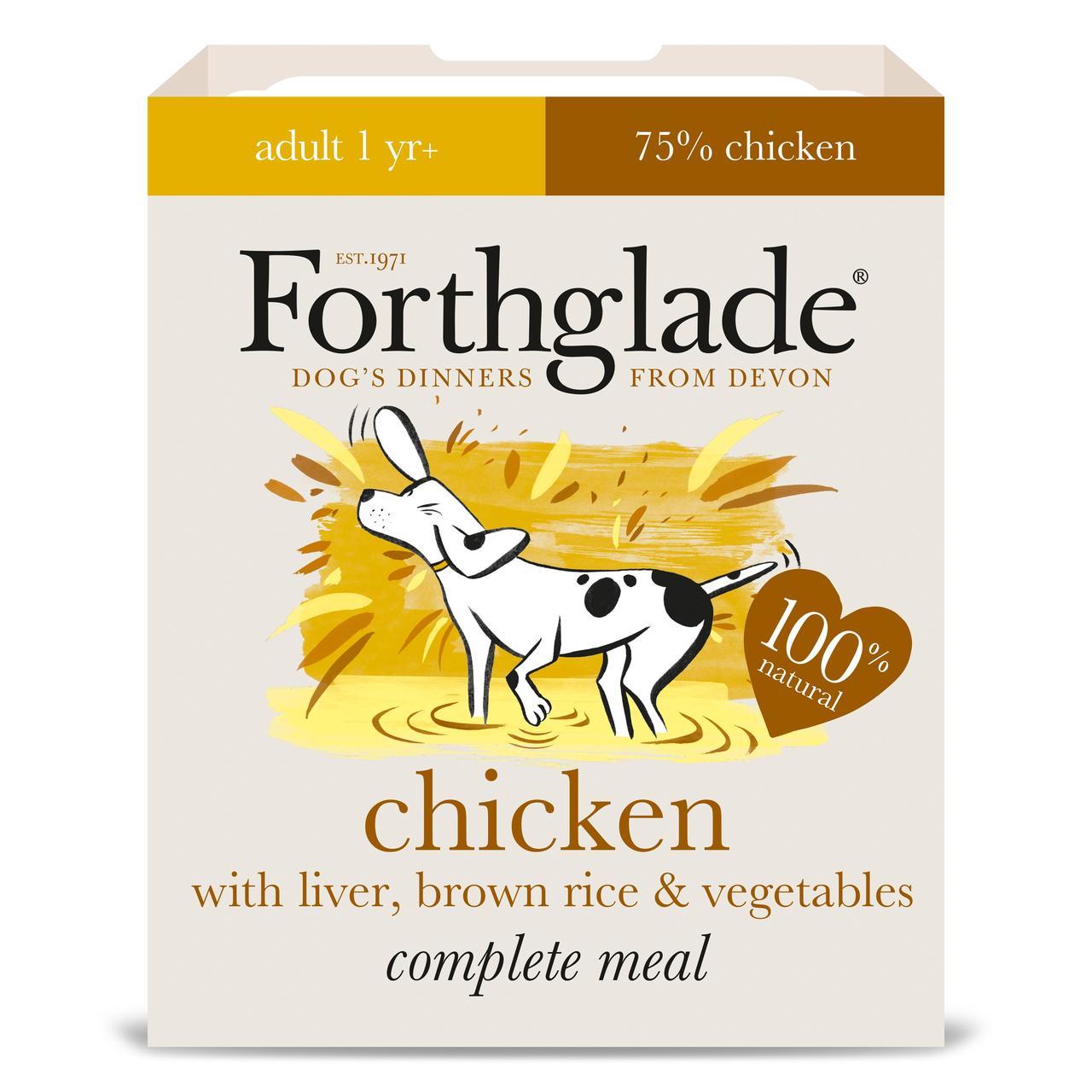 by Forthglade
Code: 2987897 :
Your dog will love our chicken with liver and brown rice dinner made with 100% natural and wholesome ingredients.  This highly digestible meal has been slow cooked to retain maximum goodness.
Key Benefits            
100% Natural
75% Meat
No artificial colours, flavours or preservatives
No animal derivatives
No sugars
Wheat Free
Hypo-allergenic
Made in Devon
Product Information            
Nutritionally balanced - chicken is a great source of protein that is easy to digest and highly palatable. Chicken liver is nutrient dense providing essential health promoting vitamins and minerals. Vegetables are a brilliant source of essential vitamins, minerals, fibre and natural antioxidants.
Brown rice - packed with natural nutrients including three B vitamins, iron, manganese, selenium, magnesium and omega-3 oils. It is easily digestible and a good source of dietary fibre which is important in maintaining intestinal health.
Botanicals - natural herbs to help aid the body's natural defences.
Omega-3 - increased levels of omega-3 fatty acids to help support immunity and encourage a healthy skin and coat.
Minerals, vitamins & prebiotics - with chelated minerals to help improve nutrient absorption, and prebiotics to help support an increase in 'good' gut bacteria.
Gently steamed - we add a little water to help cook everything slowly and at a low temperature to retain all the natural goodness.                    
Instructions
When using Forthglade for the first time, introduce it gradually to your dog over five days. It'll take between four to eight weeks to see the benefits. Make sure fresh drinking water is always available.                      
Feeding Guide            
Dog Size / Dog Weight / Trays per day
Small       / 5 - 10Kg       / 1/2 to 1 1/4
Medium   / 10 - 25Kg     / 1 1/4 to 1 3/4
Large       / 25 - 40kg      / 1 3/4 to 2 1/4
Extra Large  / 40 - 70kg  / 2 1/4 to 3 1/4
Storage Information
Store in a cool dry place. Once opened, please keep refrigerated and use within 48 hours. Best served at room temperature.
Ingredients
Chicken (70%), Chicken Liver (5%), Brown Rice (4%), Carrots (2%), Peas (2%), Minerals, Linseed Oil (0.5%), Seaweed (0.45%), Prebiotic - Fructooligosaccharide, Yucca, Glucosamine (50mg/kg), Chondroitin (50mg/kg), Camomile, Parsley, Rosemary, Nettle.                    
Analysis
Crude Protein 11%, Crude Fibres 0.5%, Crude Oils & Fats 7.5%, Crude Ash 3%, Moisture 72%.
Additives (per kg): Vitamin A 2,500IU, Vitamin D3 200IU, Vitamin E 30mg. Trace Elements: Zinc Chelate of Amino Acids Hydrate 139mg, Iron Chelate of Amino Acids Hydrate 33mg, Copper Chelate of Amino Acids Hydrate 20mg, Calcium Iodate Anhydrous 0.8mg.