Forthglade Complete Adult Chicken with Tripe & Brown Rice & Vegetables 18 x 395g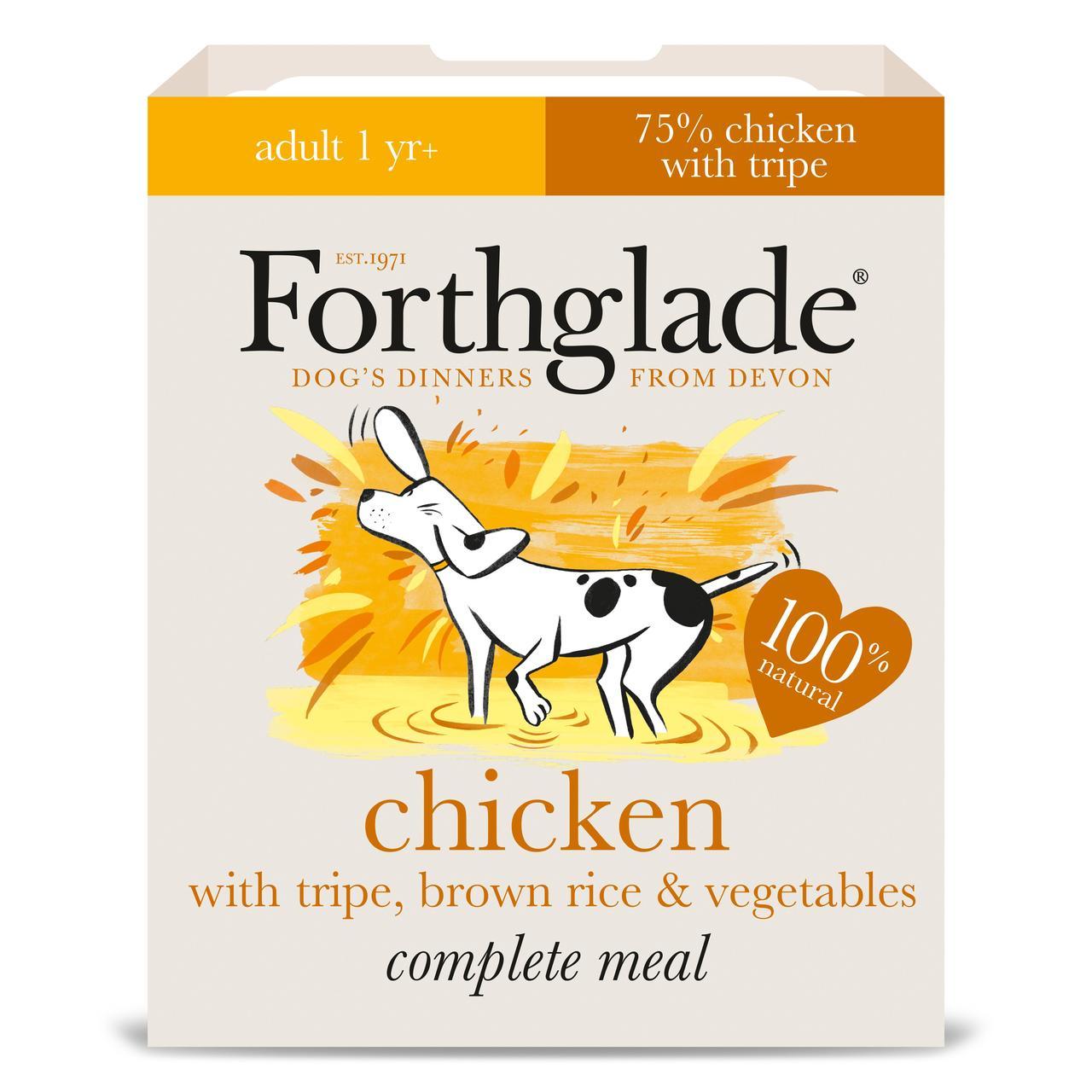 by Forthglade
Code: 2987896 :
Your dog will love our chicken with tripe and brown rice dinner made with 100% natural and wholesome ingredients.  This highly digestible meal has been slow cooked to retain maximum goodness.
Key Benefits            
100% Natural Ingredients
75% Meat
No artificial colours, flavours or preservatives
No animal derivatives
No sugars
Wheat Free
Hypo-allergenic
Made in Devon
Product Information            
Nutritionally balanced - chicken is a great source of protein that is easy to digest and highly palatable. Tripe is rich in protein and contains high levels of probiotics and good bacteria.  Vegetables are a brilliant source of essential vitamins, minerals, fibre and natural antioxidants.
Brown rice - packed with natural nutrients including three B vitamins, iron, manganese, selenium, magnesium and omega-3 oils. It is easily digestible and a good source of dietary fibre which is important in maintaining intestinal health.
Botanicals - natural herbs to help aid the body's natural defences.
Omega-3 - increased levels of omega-3 fatty acids to help support immunity and encourage a healthy skin and coat.
Minerals, vitamins & prebiotics - with chelated minerals to help improve nutrient absorption, and prebiotics to help support an increase in 'good' gut bacteria.
Gently steamed - we add a little water to help cook everything slowly and at a low temperature to retain all the natural goodness.                    
Instructions
If using the product for the first time, gradually introduce to your dog over a period of 5 days. It will take between 3-8 weeks to see the benefits of using Forthglade's Complete Meal, grain free.                    
Feeding Guide            
Dog Size / Dog Weight / Trays per day
Small       / 5 - 10Kg       / 1/2 to 1 1/4
Medium   / 10 - 25Kg     / 1 1/4 to 1 3/4
Large       / 25 - 40kg      / 1 3/4 to 2 1/4
Extra Large  / 40 - 70kg  / 2 1/4 to 3 1/4
Storage Information            
Store in a cool dry place. Once opened, please keep refrigerated and use within 48 hours. Best served at room temperature.
Ingredients
Chicken (65%), Tripe (10%), Brown Rice (4%), Carrots (2%), Peas (2%), Minerals, Linseed Oil (0.5%), Seaweed (0.45%), Prebiotic - Fructooligosaccharide, Yucca, Glucosamine (50mg/kg), Chondroitin (50mg/kg), Camomile, Parsley, Rosemary, Nettle                    
Analysis
Crude Protein 10.5%, Crude Fibres 0.5%, Crude Oils & Fats 7.5%, Crude Ash 3%, Moisture 72%
Additives (per kg): Vitamin A 2,500IU, Vitamin D3 200IU, Vitamin E 30mg. Trace Elements: Zinc Chelate of Amino Acids Hydrate 139mg, Iron Chelate of Amino Acids Hydrate 33mg, Copper Chelate of Amino Acids Hydrate 20mg, Calcium Iodate Anhydrous 0.8mg.