Forthglade Complete Adult Grain Free Lamb with Mint 395g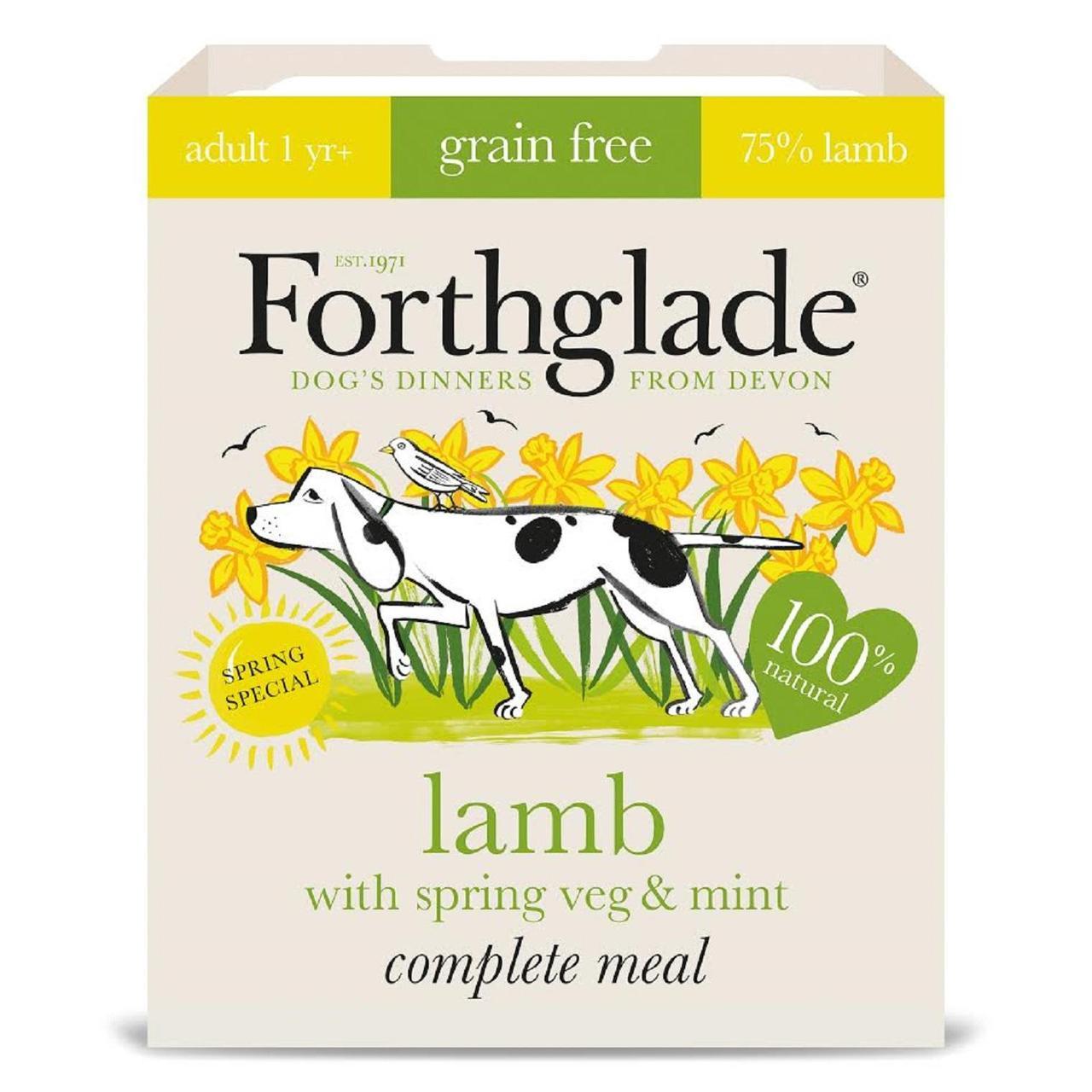 by Forthglade
Code: 2987637 :
 Our delicious, 100% natural & grain free limited edition spring recipe is packed with all the health supporting nutrients, vitamins and minerals your dog needs to stay happy & healthy. Lovingly slow-cooked for tail-wagging goodness, delicious taste and easy digestion – a great option for hounds with sensitive tummies. And with no artificial colours, grains, flavours or preservatives, you can confidently put a healthy spring in your dog's step.                     
Key Benefits            
• Special spring edition recipe
• For dogs 1+ years
• 100% natural – healthy eating for life
• 75% slow cooked lamb
• Grain free for delicate tummies
• Natural nutrients, minerals and vitamins
• No artificial colours, flavours or preservatives
• No animal derivatives or fillers
• No sugars
• Wheat free & hypoallergenic
Product Information            
Protein-rich - it's just proper lamb and some added minerals. Easy to digest and highly palatable. 
Grain-free - we don't add any grains to this recipe, so it's great for dogs with sensitive tummies. 
Gently steamed - we add a little water to help cook everything slowly and at a low temperature to retain all the natural goodness.
Recommended for            
Dogs aged 1+ years | Sensitive Tummies | Allergies
Ingredients            
Lamb (75%), Broccoli (4%), Carrots (2%), Peas (2%),Minerals, Linseed Oil (0.5%), Seaweed (0.45%), Prebiotic - Fructooligosaccharide, Yucca, Mint (0.07%) Glucosamine (50mg/kg), Chondroitin (50mg/kg), Camomile, Parsley, Rosemary, Nettle.
Analysis            
Crude Protein 10.5%, Crude Fibres 0.7%, Crude Oils & Fats 8%, Crude Ash 4%, Moisture 70%.
Additives (per kg): Vitamin A 2,500IU, Vitamin D3 200IU, Vitamin E 30mg. Trace Elements: Zinc Chelate of Amino Acids Hydrate 139mg, Iron Chelate of Amino Acids Hydrate 33mg, Copper Chelate of Amino Acids Hydrate 20mg, Calcium Iodate Anhydrous 0.8mg.
Instructions            
Our limited edition dinner is a complete pet food for adult dogs 1 year+ – ideal fed on its own, added to a quality mixer biscuit, or used as a tasty topper with dry food (If mixing with other foods, just adjust quantities accordingly). 
First time Users: When using Complete Meal, Grain Free, for the first time, introduce it gradually over five days. It'll take between three and eight weeks to see the benefits. Make sure fresh drinking water is always available.
Feeding Guide            
Dog Size Dog Weight Trays per day:
Small 0 - 10Kg ½ to 1¼ 
Medium 10 - 25Kg 1¼  to 1¾ 
Large 25 - 40Kg 1¾  to 2¼ 
Extra Large 40 - 70Kg 2¼  to 3¼ 
Storage Information
Pop in the fridge after opening and use within 48 hours. Like most good food it's best served at room temperature