HiLife It's only natural the big tuna one 32 x 70g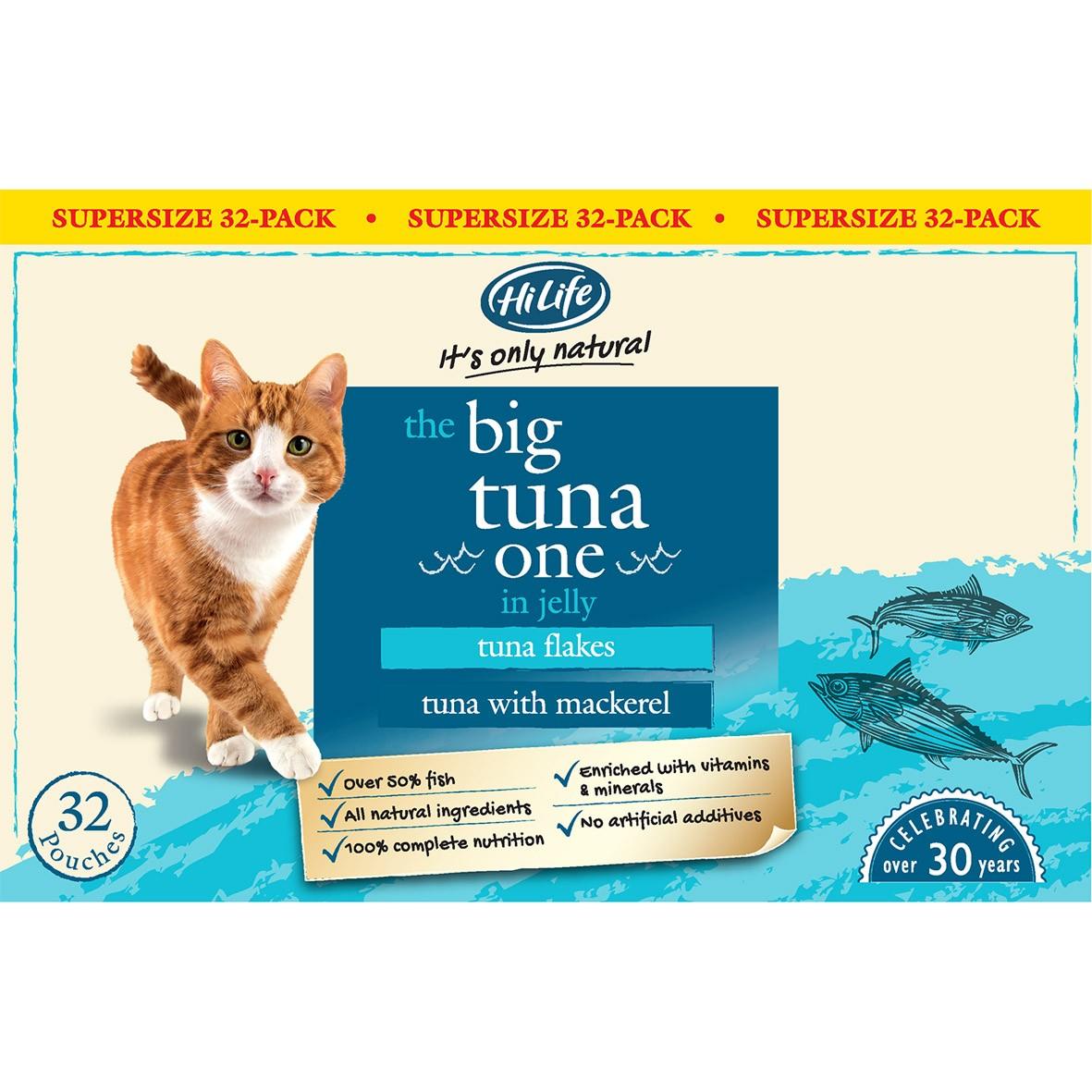 HiLife It's only natural complete recipes can be fed every day. As a guide if fed exclusively an average (4kg) cat should be fed 2.5-3 pouches of this product per day. 
If fed as part of a mixed diet, to avoid over-feeding always monitor total food intake. Natural ingredients may vary in colour, size and texture. 
Whilst we have taken every precaution preparing this recipe it may contain small bones.
Composition 
Tuna flakes:
Tuna (50%), Sunflower oil, Chicken liver, Minerals, Cassava Extract, Taurine

Tuna with Mackerel:
Tuna (35%), Mackerel (15%), Sunflower oil, Chicken liver, Minerals, Cassava extract, Taurine

Additives:
Tuna Flakes: Nutritional additives: Vitamin A 1,910 iu/kg, Vitamin D3, 220 iu/kg, Vitamin E 55 mg/kg, Ferrous sulphate monohydrate 3.3 mg/kg, Potassium iodide 1.1 mg/kg, Copper sulphate pentahydrate 2.2 mg/kg, Manganese sulphate monohydrate 5.5 mgkg, Zinc sulphate heptahydrate 163.6 mg/kg, Technological additive: cassia gum 3,765 mg/kg

Tuna with Mackerl: Nutritional additives: Vitamin A 1,800 iu/kg, Vitamin D3, 205 iu/kg, Vitamin E 50 mg/kg, Ferrous sulphate monohydrate 3.1 mg/kg, Potassium iodide 1.0 mg/kg, Copper sulphate pentahydrate 2.1 mg/kg, Manganese sulphate monohydrate 5.1 mgkg, Zinc sulphate heptahydrate 154.4 mg/kg, Technological additive: cassia gum 3,665 mg/kg

Analytical Constituents:
Both recipes:
Protein 11.0%, Fat Content 5.0%, Crude Fibres 0.1%, Inorganic Matter 1.0%, Moisture 83.0%