Hill's Science Plan Adult Cat Light with Chicken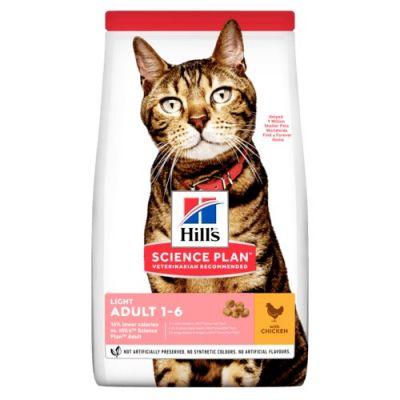 by Hill's Science Plan
Code: 2973220 :
Hill's Science Plan Adult Light Chicken is tailored to meet the needs of adult cats requiring a reduced calorie content, whether that be due to lower activity levels, sterilisation or other factors that mean a cat is prone to weight gain.
This Hill's Science Plan Adult Light Chicken dry cat food combines a reduced calorie content with high-quality proteins to keep your cat feeling full for longer and to avoid feeling as though it is on a diet. It can also help to maintain healthy, lean muscle mass.
Even the best food can only be effective if your cat eats it, so this Hill's Science Plan Adult Light Chicken is particularly delicious to ensure great acceptance.
Hill's Science Plan Adult Light Chicken at a glance:
Complete food for adult cats
Lower calorie content with L-carnitine: to support weight management
High-quality protein: long-lasting full feeling, maintains lean muscle mass, easy to digest
Unbeatable flavour: to ensure optimum acceptance and a great variety in your cat's food bowl
Omega fatty acids: to support healthy skin and coat
With taurine: an essential nutrient for supporting a cat's heart function
Balanced mineral content: can help with urinary tract health
Ingredients:
Brewer's rice, chicken and turkey meal, maize gluten meal, maize, animal fats, dried whole egg, dried beet pulp, minerals, protein hydrolysate, vegetable oil, linseeds.
Additives per kg:
Nutritional additives:
Vitamin A (5733 IU), vitamin D3 (569 IU), vitamin E (600 IU), vitamin C (90 IU), iron (54mg), iodine (0.8mg), copper (5.3mg), manganese (5.6mg), zinc (112mg), selenium (0.1mg), beta-carotene (1.5mg).
With natural antioxidants.