Hill's Science Plan Adult Cat Light with Tuna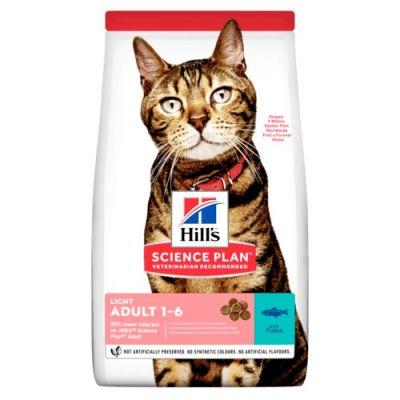 by Hill's Science Plan
Code: 2973221 :
It is not only human beings that struggle to maintain their weight and avoid obesity. This Hill's Science Plan Adult Light Tuna helps to guide your cat through this difficulty.
A lower calorie content combines with high-quality protein to help your cat feel fuller for longer, avoiding the sense of dieting. A further benefit of this Hill's Science Plan Adult Light Tuna is that it can help maintain healthy, lean muscle mass.
Even the best food can only be effective if your cat wants to eat it, so this Hill's Science Plan Adult Light Tuna is particularly delicious, helping to ensure it is well-accepted.
Hill's Science Plan Adult Light Tuna at a glance:
Complete food for adult cats
Lower calorie content combined with L-carnitine: to help support weight management
High-quality protein: long-lasting full feeling, highly-digestible and ideal for supporting lean muscle mass
Irresistibly tasty: optimal acceptance with plenty of variety
Omega fatty acids: to support skin and coat health
With taurine: essential for supporting healthy feline heart function
Balanced mineral content: to keep the urinary tract healthy
Ingredients:
Maize, maize gluten meal, rice, poultry meal, brewer's rice, cellulose, tuna fish meal, dried beet pulp, animal fats, pea bran powder, minerals, digest.
Additives per kg:
Nutritional additives:
Vitamin A (5889 IU), vitamin D3 (627 IU), vitamin E (500mg), vitamin C (90mg), beta-carotene (1.5mg), L-carnitine (555mg), iron (66.1mg), iodine [E2] (2.9mg), copper [E4] (6.5mg), manganese [E5] (6.8mg), zinc [E6] (103mg).
With natural antioxidants.