Hill's Science Plan Mature Adult Hairball & Indoor Chicken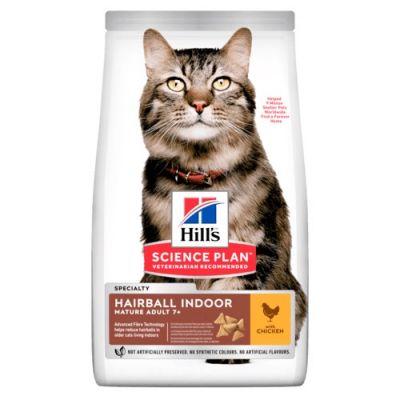 by Hill's Science Plan
Code: 2973227 :
Hairballs are not uncommon amongst felines, but they are unpleasant for both your cat and for you. Particularly in older age, it is essential that your cat avoids any unnecessary discomfort. Hill's Science Plan Mature Adult Hairball & Indoor Chicken has been developed using a special fibre technology to support gut function and to ensure swallowed hairs move through the system.
An adapted energy content, high-quality proteins and a low calorie content are ideally suited to the reduced metabolic rate of older indoor cats, helping to make weight management more achievable.
Hill's Science Plan Mature Adult Hairball & Indoor Chicken at a glance:
Complete food for adult cats over 7 years old
Adapted energy content: specially designed for senior cats
Exclusive fibre mix: can support healthy digestion and ease the transit of hairs through the system
High-quality protein: can help maintain lean muscle mass
Reduced fat- and calorie-content: can ease weight management
Adapted kibble size: for older jaws
Ingredients:
Chicken and turkey meal, maize, brewer's rice, maize gluten meal, cellulose, minerals, tuna fish meal, vegetable oil, animal fats, protein hydrolysate, fish oil.
Additives per kg:
Nutritional additives:
Vitamin A (6139 IU), vitamin D3 (612 IU), vitamin E (800 IU), vitamin C (135 IU), iron (58.6mg), iodine (0.9mg), copper (5.8mg), manganese (6.1mg), zinc (121mg), selenium (0.1mg), beta-carotene (1.5mg), taurine (2014mg).
With natural antioxidants.