Hill's Science Plan Adult Small and minature breed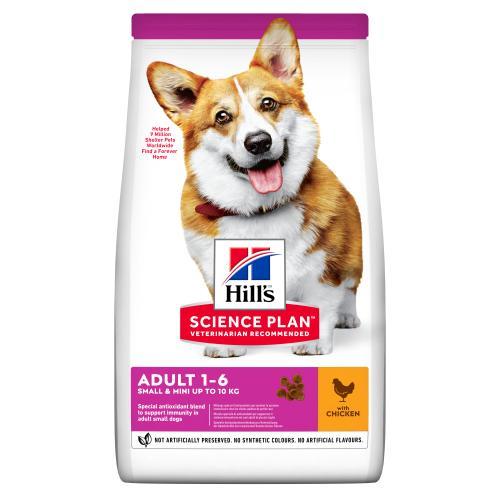 by Hill's Science Plan
Code: 2971895 :
Hill's Science Plan Canine Adult Small & Miniature Breed is formulated to support oral health, healthy skin and healthy digestion in small breed dogs. With high levels of clinically proven antioxidants and natural ingredients, with added vitamins and minerals.
Key Benefits
Clinically proven antioxidants to support immunity for a healthy long life.
Crunchy kibbles, with antioxidants to support oral health.
Premium nutrition for healthy skin and a soft, shiny coat.
Precisely balanced, easy-to-digest nutrition tailored for small breed dogs.
---
Ingredients
Dried chicken and turkey (chicken 34 %; turkey 4%, total poultry 51%), maize, wheat, brewers' rice, animal fat, digest, vegetable oil, minerals, flaxseed, tomato pomace, spinach powder, citrus pulp, grape pomace, vitamins, trace elements, taurine and beta-carotene. Naturally preserved with mixed tocopherols and citric acid.
Analytical Constituents
Beta-carotene 1.5 mg/kg, Calcium 0.0084, Carbohydrate (NFE) 0.478, Copper 11.6 mg/kg, Fat 0.15, Fibre (crude) 0.015, Magnesium 0.0008, Omega-3 fatty acids 0.0053, Omega-6 fatty acids 0.0342, Phosphorus 0.0071, Potassium 0.0068, Protein 0.232, Sodium 0.0028, Vitamin A 5000 IU/kg, Vitamin D 656 IU/kg, Vitamin E 690 mg/kg, Zinc 180 mg/kg.