Hill's Science Plan Adult Light Large Breed 14kg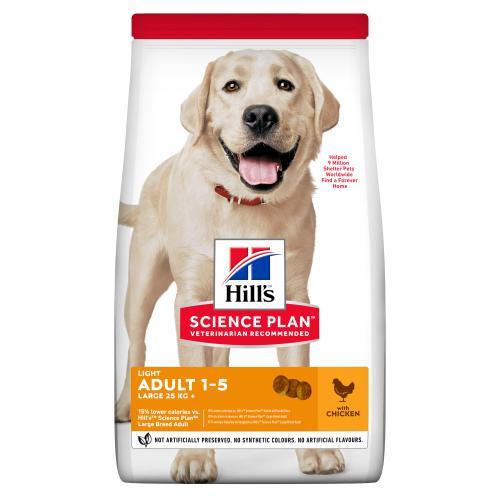 by Hill's Science Plan
Code: 2972778 :
Hills Science Plan Canine Adult Light Large Breed is a precisely balanced nutrition to help maintain ideal weight and healthy joints in large dogs. With clinically proven antioxidants and L-carnitine.
It is recommended for adult dogs weighing 25kg or more and requiring fewer calories, from 1 year old until 5 years old (i.e. dogs of larger breeds that are less active, neutered or otherwise prone to being overweight).
Key Benefits
• Energy density Fat helps avoid weight gain.
• Fibre provides more dietary bulk which helps avoid hunger.
• L-Carnitine facilitates the conversion of fat to energy, to limit fat storage.
• Essential fatty acids supports a healthy skin and coat.
• Superior antioxidant formula neutralises free radicals and helps maintain a healthy immune system.
Ingredients
with Chicken: Maize, pea bran meal, chicken (21%) and turkey meal, maize gluten meal, digest, dried beet pulp, animal fat, cellulose, soybean oil, minerals, flaxseed, L-carnitine, vitamins, trace elements, cartilage hydrolysate (source of chondroitin sulphate), crustacean shell hydrolysate (source of glucosamine) and beta-carotene. With a natural antioxidant (mixed tocopherols).
Analytical Constituents
Beta-carotene 1.5 mg/kg, Calcium 0.0075, Carbohydrate (NFE) 0.432, Fat 0.092, Fibre (crude) 0.127, L-Carnitine 325 mg/kg, Magnesium 0.0011, Omega-3 fatty acids 0.0038, Omega-6 fatty acids 0.0225, Phosphorus 0.0063, Potassium 0.0073, Protein 0.219, Sodium 0.0023, Vitamin A 6800 IU/kg, Vitamin C 70 mg/kg, Vitamin D 705 IU/kg, Vitamin E 600 mg/kg.