Hill's Science Plan Adult Light Medium Breed with Chicken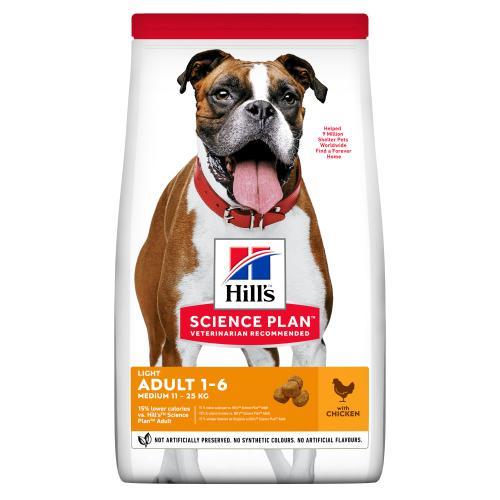 by Hill's Science Plan
Code: 2972776 :
Hills Science Plan Canine Adult Light is a precisely balanced nutrition to help maintain ideal weight. With clinically proven antioxidants and L-carnitine.
Key Benefits   
Energy density Fat helps avoid weight gain.
Fibre provides more dietary bulk which helps avoid hunger.
L-Carnitine facilitates the conversion of fat to energy, to limit fat storage.
Essential fatty acids supports a healthy skin and coat.
Superior antioxidant formula neutralises free radicals and helps maintain a healthy immune system.
Recommended for            
It is recommended for adult dogs that require fewer who are moderately active, from 1 year old until  7 years old (i.e. dogs that are less active, neutered or otherwise prone to being overweight).




Ingredients            
Chicken: Maize, chicken (26%) and turkey meal (total poultry 38%), pea bran meal, maize gluten meal, digest, cellulose, dried beat pulp, animal fat, vegetable oil, digest, minerals, flaxseed, L-lysine hydrochloride, L-carnitine, taurine, vitamins, trace elements and beta carotene. With natural antioxidant (mixed tocopherols).
Analysis            
Beta-carotene 1.5 mg/kg, Calcium 0.0076, Carbohydrate (NFE) 0.443, Copper 18 mg/kg, Fat 0.109, Fibre (crude) 0.127, L-Carnitine 300 mg/kg, Magnesium 0.0015, Omega-3 fatty acids 0.0039, Omega-6 fatty acids 0.0286, Phosphorus 0.0057, Potassium 0.0074, Protein 0.23, Sodium 0.0028, Vitamin A 6575 IU/kg, Vitamin C 90 mg/kg, Vitamin D 670 IU/kg, Vitamin E 150 mg/kg, Zinc 191 mg/kg.