Hill's Science Plan Adult Sensitive Stomach and Skin with Chicken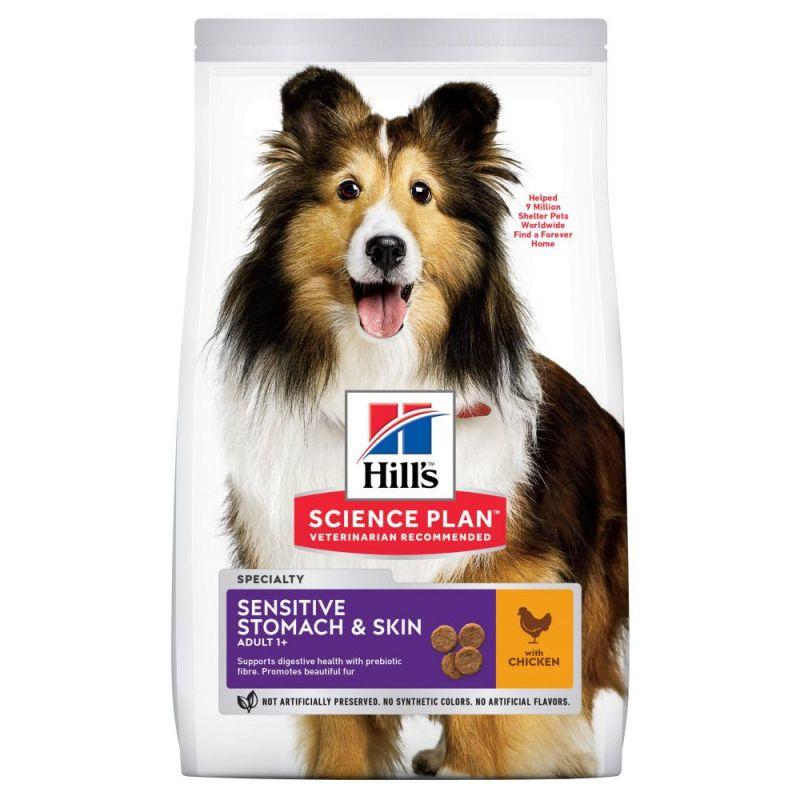 by Hill's Science Plan
Code: 2971911 :
Hill's Science Plan Canine Sensitive Stomach & Skin Adult is designed to be fed when owners are concerned about
 the non-specific signs of occasional vomiting.
Occasional loose stools, occasional flatulence and/or a 'growling' stomach 
Their dogs' dull coat, excessive non-seasonal hair shedding, dry, flaky skin and/or non-specific itching.
Dogs with a tendency to gastrointestinal upsets usually benefit from being fed a number of smaller meals each day.
Key Benefits
Protein – High Quality - Provides essential nutritional components which promote hair growth and skin health
Carbohydrate – High proportion from rice - Provides high digestibility and absorption
Cereals - All finely ground - Aids digestion and absorption
Soluble fibre – from beet pulp – Generates short chain fatty acids, which nourish intestinal cells and support normal flora
Insoluble fibre – from beet pulp - Helps normalise mobility of the digestive tract
Omega-3 fatty acids – High in an ideal blend - Helps maintain a low inflammatory level
Omega-6 fatty acids – High in an ideal blend – Helps increase the glossiness of the hair, coat and smoothness of the skin
Superior antioxidant formulas – added – Fights free radicals and supports a healthy immune system
Ingredients            
WITH CHICKEN (chicken 19%, total poultry 28% )Brewers' rice, maize, chicken and turkey meal, maize gluten meal, dried whole egg, digest, animal fat, dried beet pulp, vegetable oil, minerals, flaxseed.
Analysis            
Protein 22.6%, Fat content 14.3%, Crude fibre 1.3%, Omega-3 fatty acids 0.55%, Omega-6 fatty acids 3.73% Calcium 0.82%, Phosphorus 0.59% Sodium 0.27%, Potassium 0.68%, Magnesium 0.07 %, Per kg: Vitamin E 600mg, Vitamin C 90mg, Beta-carotene 1.5mg.