Hill's Science Plan Mature 7+ Small and minature 3kg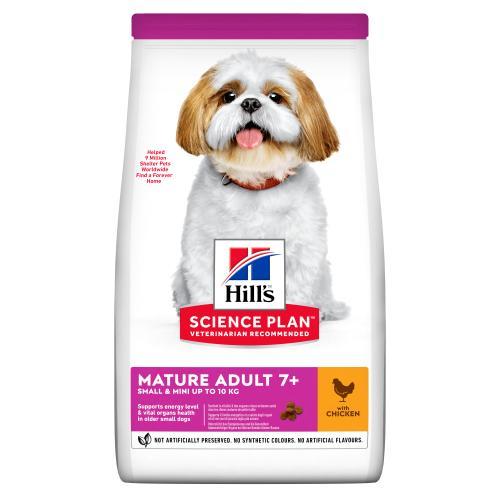 by Hill's Science Plan
Code: 2971927 :
Hill's Science Plan for the mature small and miniature dog aged 7+ has been formulated to give support to immune systems, vital organs and oral health to keep your dog strong and healthy in their senior days. Made with tasty turkey and yummy chicken with natural ingredients such as vitamins and minerals and clinically proven antioxidants.
Key Benefits 
•    Clinically proven antioxidants to support immunity for a healthy long life. 
•    Unique formula with controlled minerals to help maintain healthy vital organs. 
•    Crunchy kibbles, formulated with antioxidants to support oral health. 
•    With L-carnitine and high quality protein for lean muscles and active mobility.
---
 Ingredients: 
Dried Chicken (15%) turkey (15%) Total Poultry (30%) Barley, Maize, Brown Rice, Brewers Rice, Wheat, Animal Fat, Digest, Dried Beet Pulp, Flaxseed, Vegetable Oil, Minerals, Tomato Pomace, Spinach Powder, Citrus Pulp, Grape Pomace, L-Carnitine, Vitamins, Taurine, Trace Elements and Beta-Carotene. Naturally preserved with mixed Tocopherls and Critic Acid.
 Nutritional Contents: 
Beta-Carotene, Calcium, Carbohydrate, Copper, Moisture, L-Carnitine, Fibre, Magnesium, Omega 3 Fatty Acids, Omega 6 Fatty Acids, Protein, Potassium, Phosphorus, Sodium, Vitamin A, Vitamin C, Vitamin D, Vitamin E, Zinc