Hill's Science Plan Puppy Large Breed with Chicken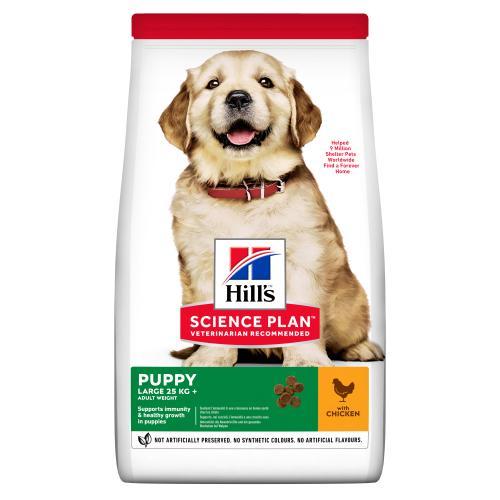 by Hill's Science Plan
Code: 2972031 :
Hill's Science Plan Puppy Healthy Development Large Breed with Chicken Dry Food is formulated for healthy skeletal development in large breed puppies. With clinically proven antioxidants and optimal mineral levels.
Key Benefits
Immunity: Clinically proven antioxidants with high levels of vitamin E to support a healthy immune system.
Vitality: Precise balance of minerals and omega-3 fatty acids for healthy bone and joint development.
 Digestion: Highly digestible proteins and a balance of fibres to support a healthy digestive tract.
 Oral Health: Precise balance of vitamins and minerals for healthy development of teeth.
 Skin & Coat: High levels of omega-6 fatty acids help promote healthy skin and a shiny coat.
Recommended for: Large breed puppies (over 25 kg when adult) from weaning until 1 year old
Ingredients
Chicken: Maize, chicken (35%) and turkey meal, brewers' rice, animal fat, digest, dried whole egg, cellulose, dried beet pulp, minerals, flaxseed, fish oil, soybean oil, L-carnitine, vitamins, trace elements and beta-carotene. With a natural antioxidant (mixed tocopherols).

Analytical Constituents
Beta-carotene 1.5 mg/kg, Calcium 0.0099, Carbohydrate (NFE) 0.423, Fat 0.129, Fibre (crude) 0.028, L-Carnitine 320 mg/kg, Magnesium 0.0009, Moisture 0.08, Omega-3 fatty acids 0.008, Omega-6 fatty acids 0.023, Phosphorus 0.0081, Potassium 0.0074, Protein 0.276, Sodium 0.0046, Vitamin A 8230 IU/kg, Vitamin C 100 mg/kg, Vitamin D 630 IU/kg, Vitamin E 550 mg/kg.