James Wellbeloved Puppy Fish and Rice 2kg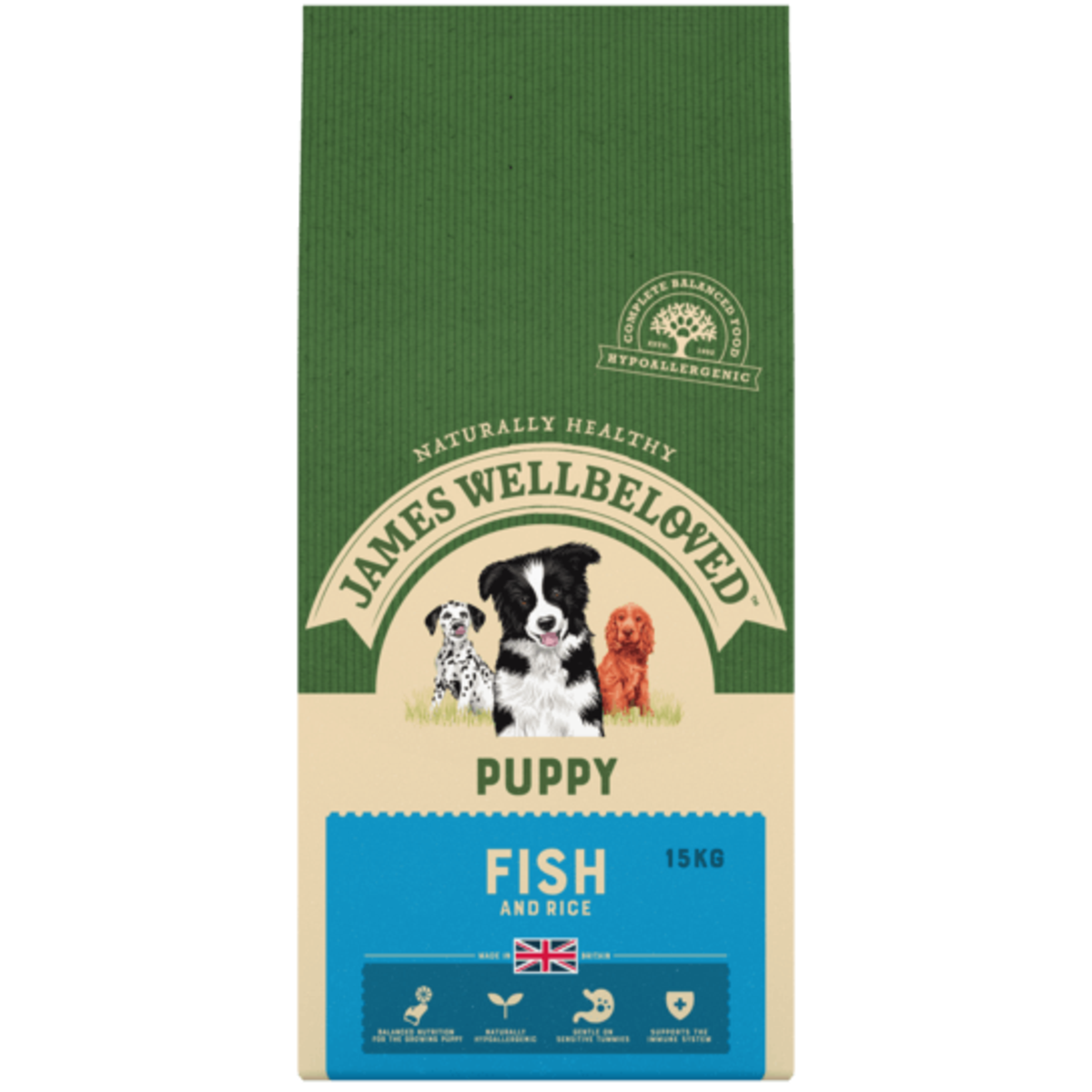 by James Wellbeloved
Code: 2972462 :
James Wellbeloved Complete Puppy Food with Fish and Rice is a nutritious complete puppy food designed to meet the unique dietary requirements of a puppy, providing an essential balance for optimised growth and development.

Formulated to be gentle on your puppy's digestion; excluding many of the ingredients which are known to commonly cause allergies including wheat gluten and dairy products.

James Wellbeloved complete dog foods specially selected wholesome ingredients make them naturally healthy, completely satisfying and very tasty for your dog.
Key Benefits
Made with specially selected natural, wholesome ingredients, including a minimum of 23% Fish and 28% rice; James Wellbeloved Complete Puppy Food is infused with:
 Barley and Sugar Beet - a natural source of carbohydrates and a natural provider of dietary fibre for a healthy digestive tract;
 Brown and Pearl Rice - an easy to digest source of carbohydrates which is gentle on your dog's stomach;
 Natural Protein - to help support and maintain muscle growth and development;
 Linseed Oil - a rich source of omega fatty acids for a soft and shiny coat;
 Natural Seaweed - rich in iodine and trace elements;
 Vitamins, Minerals and Antioxidants - for overall healthy and to boost your dog's immune system.
James Wellbeloved Complete Puppy Food is hypo-allergenic and suitable for puppies.                    




Ingredients: Rice, ocean white fish meal, ground whole barley, pea protein, olive oil, whole linseed, fish stock, peas, fish oil, alfalfa meal, natural seaweed, sodium chloride, chicory extract, potassium chloride, calcium carbonate, yucca extract

Minimum levels: fish (26%), rice (26%), barley (10%), linseed (3%), fish stock (3%), alfalfa (1%), seaweed (0.5%), yucca extract (0.02%), chicory extract (0.2%)

Additives per kg: antioxidants: E306/Natural antioxidant, 150mg, Vitamins: E672/Vitamin A, 15.000 iu, E671/Vitamin D3, 2,250 iu, Trace elements: E1/iron, 40mg, E2/iodine, 2mg, E4/copper, 5mg, E5/manganese, 25mg, E6/zinc, 100mg
Analysis            
Protein 30.0%, crude fibres 2.4%, fat content 15%, crude ash 7.0%, Vitamin E 180mg/kg, omega-3 fatty acids 2.0%, omega-6 fatty acids 1.9%