Royal Canin Siamese Adult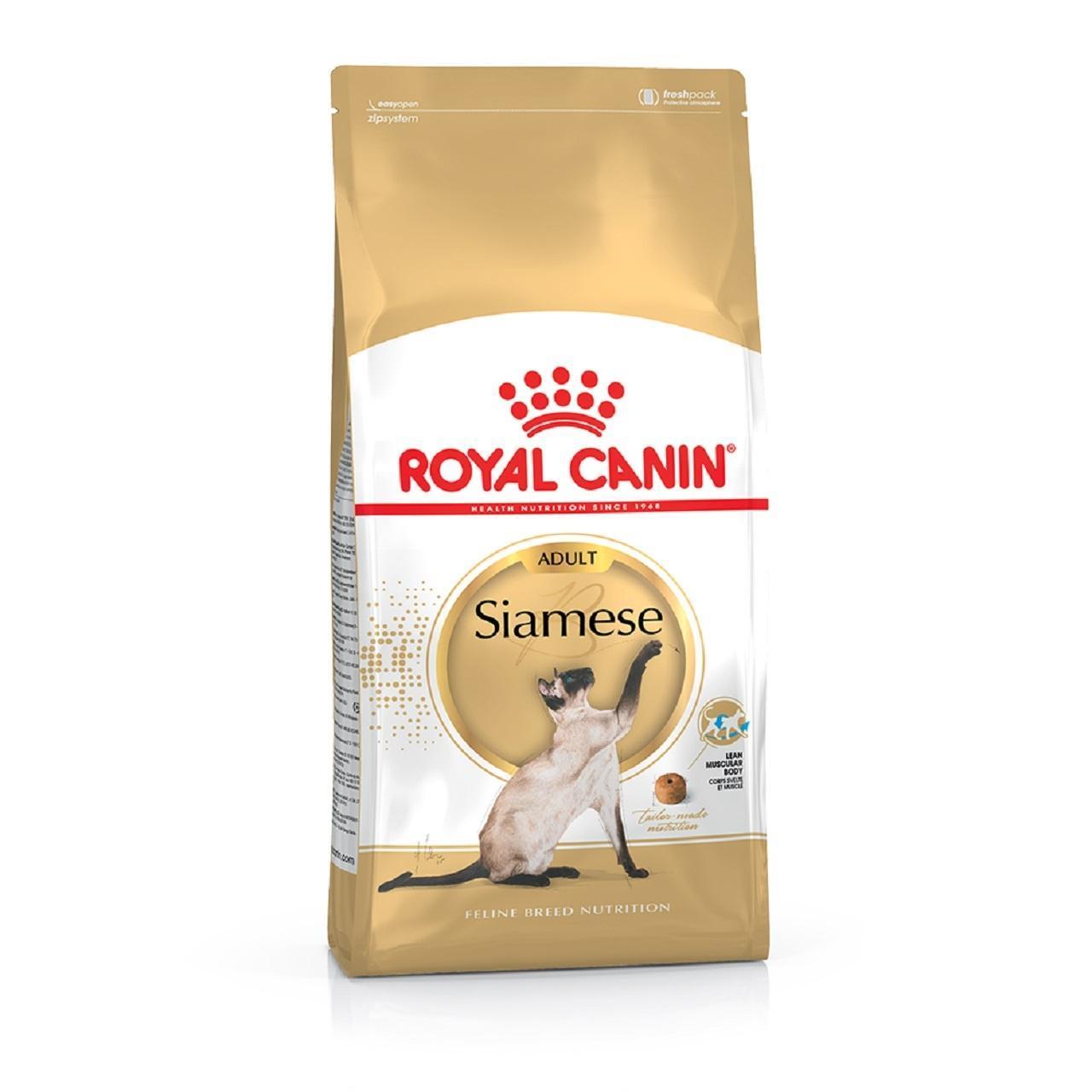 by Royal Canin
Code: 3349775 :
Royal Canin Siamese Adult cat food especially formulated for Siamese cats; promotes fat burning while retaining muscle mass, ergonomic kibble slow down food intake

The Siamese cat - graceful and full of spirit. A long, slim, athletic and well-shaped body, straight posture and erect head - the Siamese cat finds attention everywhere. A truly elegant appearance! Its short, silky fur is characteristic through the points, darker spots in the areas of extremities. Behind a secretive mask hides a spirited and at the same time very devoted nature.
Key Benefits        
 Maintaining a slim, muscular body shape: an increased content of top quality proteins and added L-carnitine support the maintenance of the long, slim, muscular body shape of the Siamese cat
 Increased digestive security: FOS (fructo-oligo-saccharides) and MOS (mannan-oligo-saccharides) together with a synergistic complex of antioxidants (lutein, taurine, vitamin E, vitamin C) ensure optimal digestibility
 Healthy skin and shiny coat: Fatty acids, linoleic acid and amino acids together with zinc, biotin and vitamins strengthen the skin's barrier function and accentuate the beauty and colour of the fur
 Optimised protection through L-lysine: cats' airways are frequently attacked by herpes viruses.
 Supplementing food with L-lysine limits the intensity of virus transmission and lowers the severity of clinical symptoms of illnesses caused by herpes viruses


Ingredients        
Dehydrated poultry meat, vegetable protein isolate L.I.P., wheat, animal fats, maize, barley, maize gluten, rice, hydrolysed animal proteins, beet pulp, minerals, L-lysine, fish oil, sodium phosphate, fructo-oligo-saccharides, soya oil, DL-methionine, hydrolysed yeast (source of manno-oligo-saccharides), taurine, borage oil, egg powder, marigold extract (source of lutein), L- carnitine
*L.I.P.: protein selected for its very high assimilation.
Analysis        
Iron (222 mg / kg), copper (25 mg / kg), manganese (62 mg / kg), zinc (230 mg / kg), iodine (2.5 mg / kg), selenium (0.2 mg / kg ), vitamin E (600 mg / kg), vitamin C (300 mg / kg), biotin (3 mg / kg), choline (3000 mg / kg), vitamin B1 thiamine (25 mg / kg), vitamin B2 riboflavin ( 49 mg / kg), vitamin B5 pantothenic acid (144 mg / kg), vitamin B3 niacin (963 mg / kg), vitamin A (22,000 IU / kg), vitamin B6, pyridoxine (76 mg / kg), vitamin D3 (1500 IU / kg), folic acid (12.4 mg / kg), vitamin B12 cobalamin (0.2 mg / kg), L-carnitine (50 mg / kg), taurine (0.3 mg / kg)