Dodson & Horrell Be Calm Balancer 15kg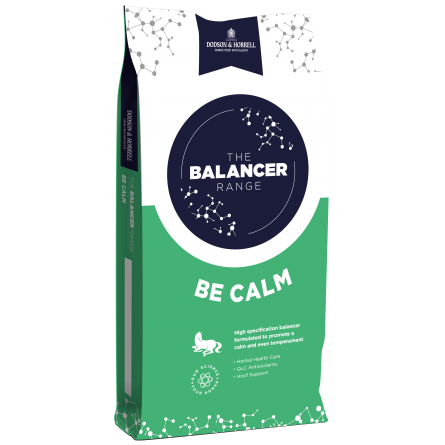 by Dodson & Horrell
Code: 4142711 :
TEMPORARY SUPPLY ISSUE - NO DATE FOR WHEN NEW STOCK WILL BE AVAILABLE
A high specification balancer formulated to promote a calm and even temperament.
Fully balanced feed suitable for all horses at rest or in work that are sensitive or anxious.
Cereal-Grain Free and low in sugar and starch.
A mixture of Chamomile, Lemon Balm & Vervain to support an even temperament. These herbs are all traditionally used to promote a calmer temperament and support the horse through times of stress or change.
Includes QLC Antioxidant package to support defences against free radicals generated through stress.
ActiSaf protected yeast to support a healthy hindgut environment, fibre fermentation and nutrient uptake.
Biotin, Zinc and Methionine for hoof strength and growth.
Feeding Guidelines:
* 100g/100kg body weight per day