Skinners Field & Trial Muesli Mix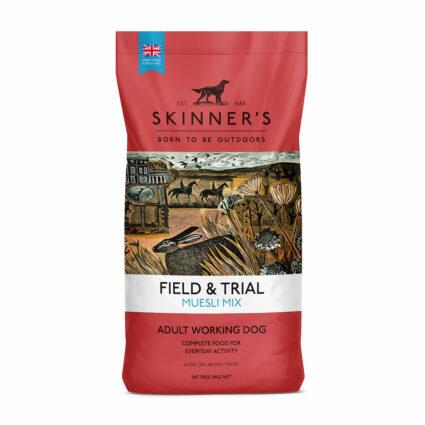 by Skinners Field & Trial
Code: 2971881 :
Field & Trial Muesli Mix is an appetising mix of meat, cooked peas, steam cooked flaked cereals and crunchy biscuits all coated in wheat glucose syrup which gives the food added natural flavour and a distinctive texture. It has been carefully formulated to meet the energy requirements of adult dogs in moderate working conditions and is rich in carbohydrate to sustain energy and stamina. 
Beef provides the high levels of protein needed for strong muscles, teeth and bones. Top quality oils give extra energy, whilst cereals, biscuits and peas boost the carbohydrate content guaranteeing the sustained stamina needed for a full day in the field. 
With a variety of tastes, textures and a delicious moist wheat glucose syrup coating, even a fussy dog will tuck in and enjoy a full ration of Field & Trial Muesli Mix.


Ingredients
Protein pellets containing beef meat meal, extruded wholewheat biscuits, cooked flaked maize, wheat glucose syrup, baked wholewheat biscuits, cooked flaked peas, cooked wheatflakes, oils, vitamins, minerals and trace elements.
Analysis
Crude Protein: 21%, Crude Oils & Fats: 8%, Crude Fibres: 3%, Crude Ash: 9%