Skinners Field & Trial Turkey & Rice 15kg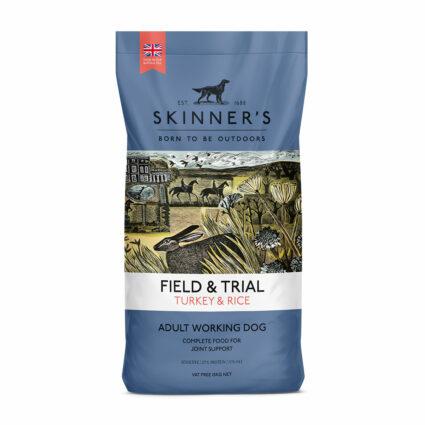 by Skinners Field & Trial
Code: 2971879 :
Field & Trial Turkey & Rice is a hypoallergenic food and has been exclusively formulated to include joint aid for dogs at a daily maintenance level. joint aid for dogs provides complementary nutritional support for all dogs and can help maintain healthy digestion and freedom of movement in one complete feed. Field & Trial Turkey & Rice is completely hypoallergenic and has been specially formulated to be sensitive on your dog's digestion and to reduce the likelihood of skin, coat and digestive conditions associated with sensitivities to wheat, maize, barley, soya and dairy products. It contains British turkey meat meal and has been formulated to give an excellent balance of Omega 3:6 fatty acids, which can help support the dog's immune system. The food is coated in sunflower oil as a valuable source of energy and to maintain a healthy coat condition.
Additives
Nutritional additives per kg: Vitamin A 13,000 iu, Vitamin D3 2,000 iu, Vitamin E (as alpha-tocopherol acetate) 310 iu, Trace Elements per kg: Iron (as ferrous sulphate monohydrate) 40mg, Iodine (as calcium iodate anhydrous) 1.5mg, Copper (as cupric sulphate pentahydrate) 5mg, Manganese (as manganous oxide) 25mg, Zinc (as zinc oxide) 100mg (as zinc chelate of amino acids hydrate) 30mg, Selenium (as sodium selenite) 0.1mg. Contains tocopherol rich extracts of natural origin (Vitamin E) as EC permitted antioxidant.
Composition
Whole rice (40%), turkey meat meal (21%), oats, peas, linseed, sunflower oil, beet pulp, vitamins, minerals and trace elements. Joint Aid supplement (2% comprising of glucosamine, chondroitin, collagen, MSM, glutamine, curcumin, oils & fats, beta glucans, oligosaccharides).