Stickles Timothy Hay & Herbs Treats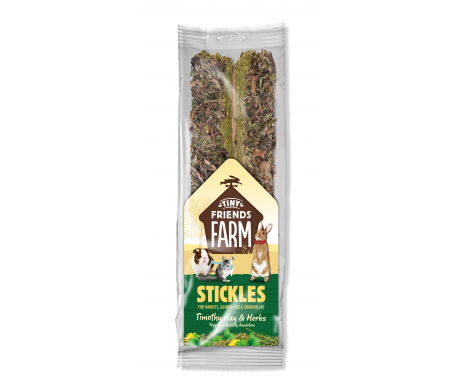 by Tiny Friends Farm
Code: 4494562 :
our small animal will go wild for these tasty, tempting Stickles Timothy Hay & Herbs Treats! They are bursting with a blend of delicious ingredients and are topped with tasty dandelion. Crunchy and fibrous, they stimulate the natural gnawing instinct and can help to keep your pet's teeth trim. Perfect when you want to give your pet an occasional stimulating and healthy treat.
With a cereal base and various sugars for sweetness, a Stickle Timothy Hay & Herbs Treat is long-lasting and totally irresistible! Designed as a complementary pet food for rabbits, guinea pigs and chinchilla, they can be hung in the cage, run or hutch to encourage natural gnawing behaviour. It is also really enjoyable to watch your pets having fun with these snacks!
Ingredients: Cereals, derivatives of vegetable origin, Timothy hay (10%), dandelion (2%), various sugars, oils and fats, herbs (thyme 1%, basil 1%).
Quantity: Pack of 2, 100g