Wilsons Original 15kg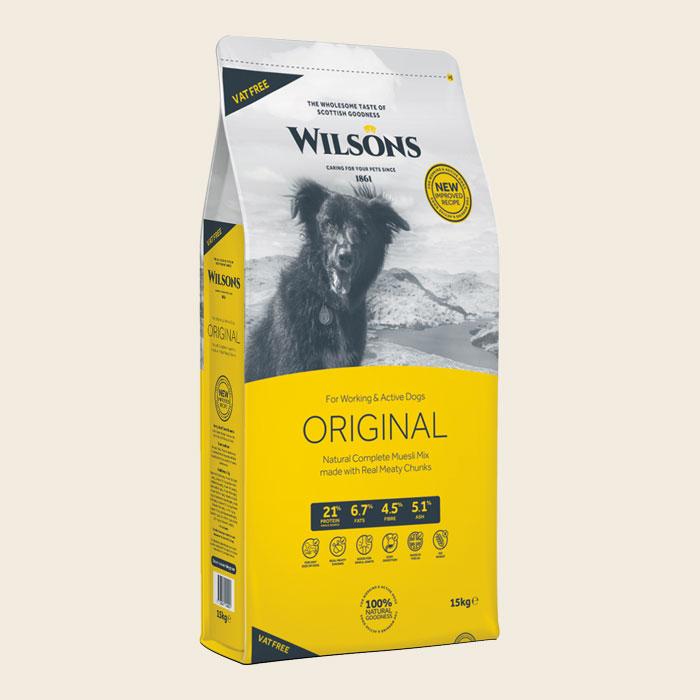 by Wilsons
Code: 10310 : 0703694994098
Description

Nutrition

Reviews
The iconic Original muesli mix has been developed and improved, to provide working and active dogs with boundless energy, excellent body development, and strong bones and muscles, to stand up to their active lifestyle.
Made 'wheat free' and with real meaty chunks, it can also be used as a delicious, healthy mixer.
Ingredients
Cereals (Flaked Maize, Flaked Barley), Dried Meat (20%), Vegetables (Flaked Peas),

Poultry Fat, Linseed Oil, Vitamins and Minerals.
Nutritional Additives
Vitamin A 15,000 iu/kg, Vitamin D3 2,000 iu/kg, Vitamin E 50 mg/kg, Vitamin K3
(MNB) 8.693 mg/kg, Vitamin B1 3 mg/kg, Vitamin B2 8 mg/kg, Vitamin B6 5 mg/kg,
Vitamin B12 40 mg/kg, Nicotinic Acid 20 mg/kg, Pantothenic Acid 10 mg/kg, Biotin
100 mg/kg, Vitamin C 50 mg/kg, Choline Chloride 500 mg/kg, Iron 30 mg/kg,
Copper 15 mg/kg, Manganese 80 mg/kg, Cobalt 3 mg/kg, Zinc 99.99 mg/kg,

Iodine 3.99 mg/kg, Selenium 0.1 mg/kg
Nutritional Values
21% Protein 6.7% Fat 4.5% Fibre 5.1% Ash