YuMega Dog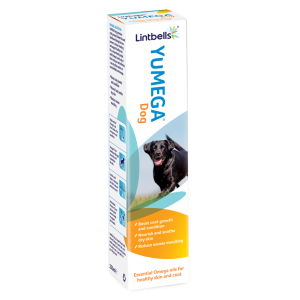 by Lintbells
Code: 11722 :
Essential Omega oils for healthy skin and coat.
YuMEGA Dog is a premium quality coat and skin supplement that's packed with natural essential Omega 3 and 6 oils. The proven formula is ideal for moulting dogs, improves dog dry skin and supports coat condition – expect results in 3-6 weeks.
Boost coat growth and condition
Nourish and soothe dry skin
Reduce excess moulting
Trusted by breeders and vets
Works in 3-6 weeks


4 signs your dog's dry skin needs YuMEGA support
Is your dog moulting a lot?
Have they developed thin or balding patches?
Is your dog prone to dry, flaky skin?
Does their coat condition need a helping hand?