AATU Grain Free Dog Food Salmon & Herring 10kg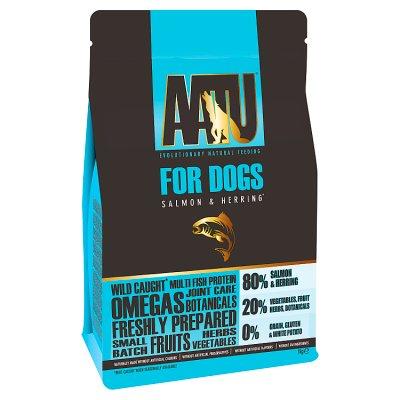 Description

Nutrition

Reviews
AATU 80/20 Salmon& Herring Complete Grain Free is a quality dry kibble, combining the best that nature can offer to give your dog all of the nutrients that it needs. The dry kibble has a high protein content, with 80% fish, consistent with a dog's natural nutritional requirements. The main ingredient is 50% freshly prepared, boneless salmon with 30% dried herring. 20% of the kibble is made up of a combination of natural herbs, beneficial plant extracts, fruit and vegetables. Chondroitin and Glucosamine are added to help your dog to maintain healthy joints, whilst prebiotics help to support a healthy digestive system.
As the food only contains fish as the single source of protein, it makes it ideal for dogs with food sensitivities or those with delicate digestion. Salmon is high in Omega-3 and Omega-6 fatty acids, which are both essential to help dogs suffering from skin complaints or a dull coat. The recipe uses sweet potato instead of grains or white potatoes, so that it is gluten free, ideal for dogs with allergies or food intolerances. The tailored formula is further enhanced with AATU's Super 8 complex – with 8 types of fruit and vegetables, 8 herbs and 8 plant extracts - to provide your pet with comprehensive nutrition. The combination includes cranberries, peppermint, lingonberries, aniseed and spirulina to bring the power of mother nature into your dog's daily nutrition.
A modern, intelligent, completely natural and additive-free dry food solution, to satisfy the highest demands!
AATU 80/20 Salmon & Herring Complete Grain Free at a glance:
Super-premium complete dry kibble for adult dogs
Fresh salmon and dried herring: contains 50% freshly prepared, boneless salmon, plus 30% dried herring
Single protein food with fish: one source of animal protein. Also suitable for exclusion diets
Gluten and grain free, with no white potato: made with sweet potato and chickpeas, making it suitable for hypersensitive dogs, or dogs with allergies
80% fish: very high animal protein content, for a species-appropriate canine diet
20% fruit & vegetables, according to the Super 8 formula: contains 8 types of fruit, vegetables, herbs and plant extracts with beneficial nutrients
Healthy gut flora: recipe contains prebiotics to promote good bacteria in the gut and prevent the spread of bad bacteria
With glucosamine & chondroitin: to promote healthy joints and cartilage
Nature's recipe: a modern composition that mimics a healthy, natural canine diet
No additives: no artificial colourings, flavourings or preservatives
GM free
Made in Britain
Ingredients:
Fish 80% (51% cooked, boneless salmon, 29% dried herring), sweet potatoes, chickpeas, peas, alfalfa, salmon broth, carrots, tomatoes, chicory, cassava, apples, pears, cranberries, blueberries, mulberries, oranges, blueberries, lingonberries, parsley, peppermint, spirulina, seaweed, oregano, sage, marjoram, thyme, chamomile, rose hips, nettle, yucca, marigold, aniseed, fenugreek seeds, cinnamon, hip and joint care (glucosamine 350mg/kg, MSM 350mg/kg, chondroitin 240mg/kg).
Additives (per kg):
Vitamin A (17310 IU), vitamin D3 (1540 IU), vitamin E (480 IU).
Analytical constituents
protein 31.0 %
fat          19.0 %
fibre      2.5 %
moisture              8.0 %
omega-3 fats      5.5 %
omega-6 fats      2.4 %