Arden Grange Adult Chicken and Rice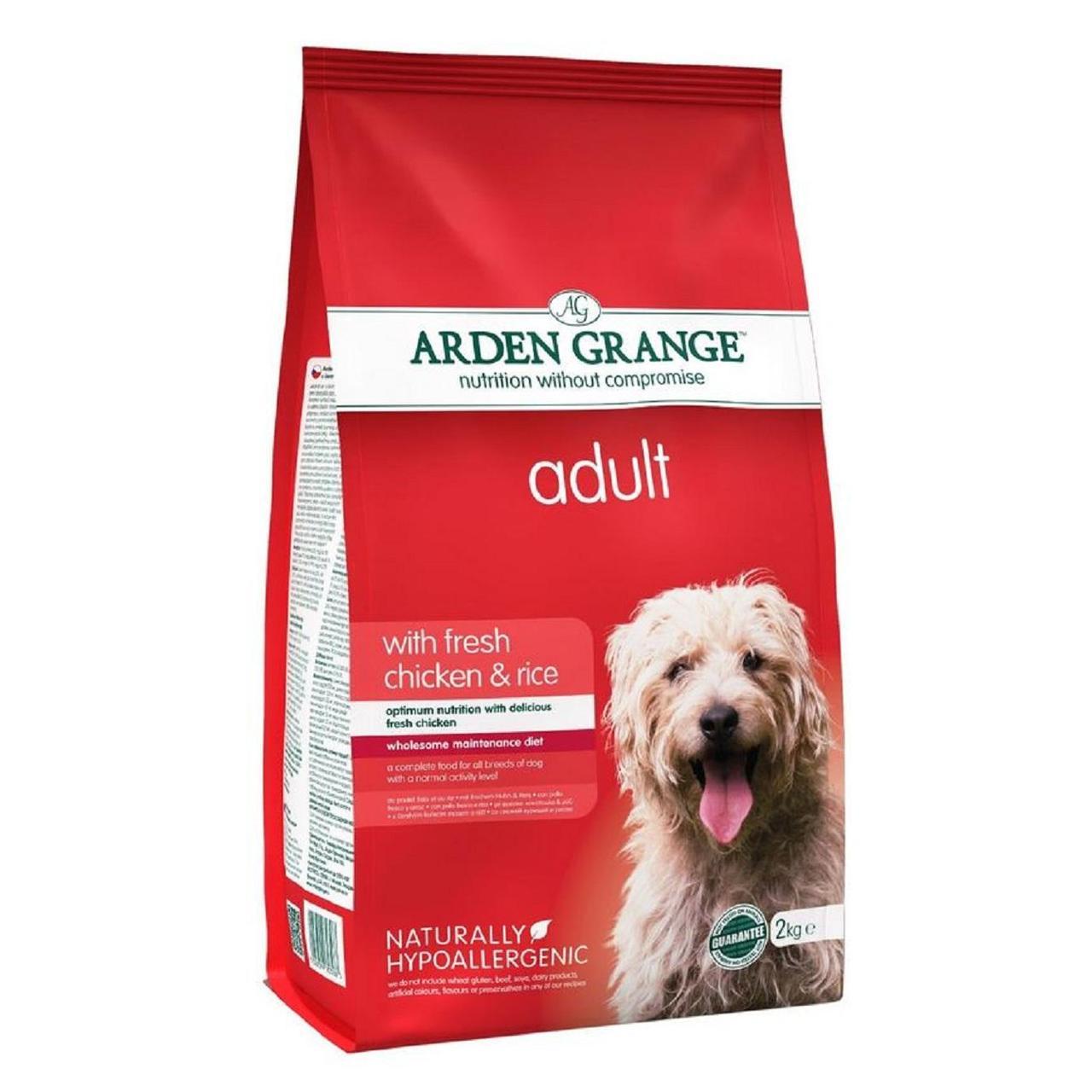 by Arden Grange
Code: 2971834 :
Description

Nutrition

Reviews
Arden Grange Adult Dog with Chicken is a complete, super premium pet food for normally active adult dogs.
It contains fresh chicken which is a delicious and highly digestible protein source. High quality, human grade ingredients are selected to create our diets and we do not include any artificial colours, flavours or preservatives.
All our foods contain a unique blend of nutrients and natural supplements to help promote the optimum health, vitality and condition of your pet.                    


Key Benefits  
High proportion of chicken - providing the top quality protein that is essential for the structural and functional demands of the adult canine body
High quality chicken - no battery farming, and no growth hormones or antibiotics
Medium sized kibble – suitable for most breeds of adult dog
Chicken oil as the primary fat source – easily digested and the most appropriate for the largely carnivorous needs of the canine
Super-premium ingredients – the chicken meat meal is the most superior quality and includes no feet, feathers, heads or undesirable material
Moderately energy dense – ideal adult maintenance feed for pet dogs or those in light work
Product Information            
Digestive Health - As with all Arden Grange products, prebiotics and nucleotides are included in the recipe; Prebiotics may help to promote the beneficial intestinal flora and limit the growth of pathogenic bacteria; Nucleotides (natural short-chain proteins derived from yeast) enhance metabolic function, allowing optimum levels of nutrients to be absorbed and utilised by the body.

Optimal Skin & Coat Condition - Optimum levels of vitamins and minerals, and the correct ratio of Omega-6 to Omega-3 fatty acids may help to promote good skin and coat condition.
Recommended for         
Small breed dogs from 6 months of age.
Medium dogs from 9 months of age.
Large and Giant breed dogs from 12 + months.


Ingredients           
Chicken meat meal (27%), rice (26%), maize, chicken oil, beet pulp, fresh chicken (5%), chicken digest, yeast, whole dried egg, linseed, fish meal, fish oil, prebiotic FOS, prebiotic MOS, cranberries, yucca extract, glucosamine, MSM, chondroitin, nucleotides. 
Analysis
Analytical Constituents: Crude Protein 25%, Fat Content 15%, Crude Ash 7%, Crude Fibres 2.5%, Calcium 1.1%, Phosphorous 0.75%, Omega-3 0.50%, Omega-6 3.18%.
Additives (per kg)
Vitamins: Vitamin A 18,000 IU, Vitamin D3 1,350 IU, Vitamin E 240 IU.
Trace Elements: Zinc chelate of amino acid hydrate 500mg, Copper chelate of amino acid hydrate 100mg, Manganese chelate of amino acid hydrate 67mg, Calcium iodate anhydrous 2.4mg, Selenised Yeast (inactivated) 65mg, Antioxidant (rosemary extract).