Baileys No.3 Stud & Youngstock Cubes 20kg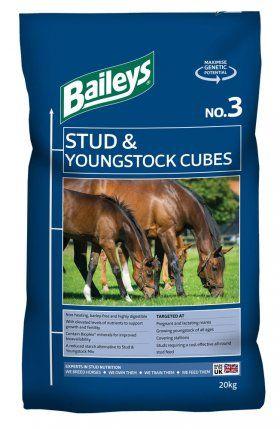 by Baileys
Code: 2972666 :
Targeted At: Pregnant and lactating mares | Growing youngstock of all ages | Covering stallions |
Studs requiring a cost effective all-round stud feed
Baileys No.3 Stud & Youngstock Cubes are popular amongst breeders that have large groups of mares & young stock to feed, this is because it is cost effective & can be fed on the ground. 
The stud cubes are also good for those with a limited appetite, the high nutrient density means feed volume can be kept low whilst still delivering the required energy & supporting nutrients. Stud Cubes are a lower starch alternative to stud mix making it the preferred feed for horses prone to excitability.
Lower starch alternative to stud mix
Barley free
Can be fed on the ground
Analytical Constituents
Digestible Energy 13 MJ/kg, Protein 15%, Oil 4%, Fibre 9%, Ash 7.5%, Calcium 1.2% & Phosphorus 0.7%
Composition
Micronised Wheat, Wheatfeed, Grass Meal, Soya (Bean) Meal, Oatfeed (by-product of the oat milling industry), Molasses, Extracted Sunflower Meal, Micronised Soya, Calcium Carbonate, Vitamins and Minerals, Soya Oil, Dicalcium Phosphate, Sodium Chloride, Calcined Magnesite, ScFOS (Digest Plus prebiotic)