Baileys Tasty Treats 5kg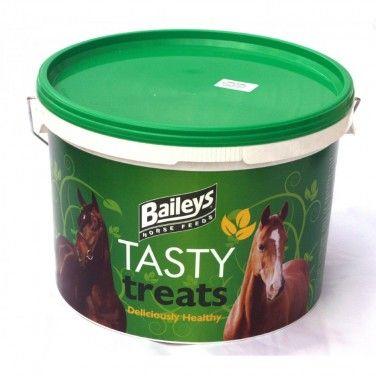 by Baileys
Code: 2972601 :
Baileys Tasty Treats are the deliciously healthy snack that without fail your horses or ponies will simply adore. These crunchy pieces utilise natural fibres mixed with essential oils to create a fragrant snack that horses enjoy the smell of.
Tasty Treats are low in calories and offer next to no vitamin & mineral supplementation so they will not affect the balance of the horse or ponies' diet.
High fibre snack
Flavoured with essential oils for fragrance
Does not affect balance of other feeds.
This product is supplied in Pet Shop Postie packed reusable plastic tubs 
Analytical Constituents
Protein 7.0%, Oil 2.5%, Fibre 22.0% & Ash 6.0%
Composition
Oatfeed (by product of the oat milling industry), Alfalfa Meal, Molasses, Micronised Unmolassed Sugarbeet, Flavours of Essential Oils