Dodson & Horrell Mare & Youngstock Concentrate 20Kg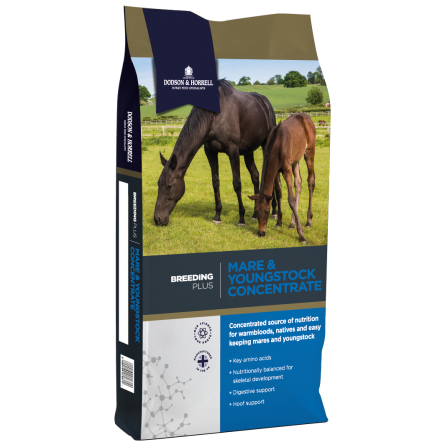 by Dodson & Horrell
Code: 2972350 :
Concentrated source of nutrition for warmbloods, natives and easy keeping mares and youngstock
Information:   
Key Amino Acids
Nutritionally balanced for skeletal development
Digestive Support
Hoof Support 
Composition:               
Oats, Barley, Wheatfeed, Wheat, Distiller's wheat grains, Extracted sunflower, Cane molasses, Alfalfa, Full fat soya, Unmolassed sugar beet, Maize, Peas, Oatfeed, Calcium carbonate, Sodium chloride, Monocalcium phosphate, Rapeseed oil, Magnesium oxide, Fructose oligosaccharides, Mannan oligosaccharides
Feeding guidelines: 
 Mares (early pregnancy): feed 300-500g/100kg bodyweight per day.
Mares (late pregnancy and lactation): feed 500-700g/100kg bodyweight per day.
Youngstock: feed 600g-1kg/100kg bodyweight per day.
Do not exceed 1kg/100kg bodyweight per day in total. Divide into at least 2-3 meals per day. Ensure a minimum intake of 2kg/100kg bodyweight of forage per day. Store in a cool, dry place. For use with target species only.