Dodson & Horrell Suregrow (Stud Balancer)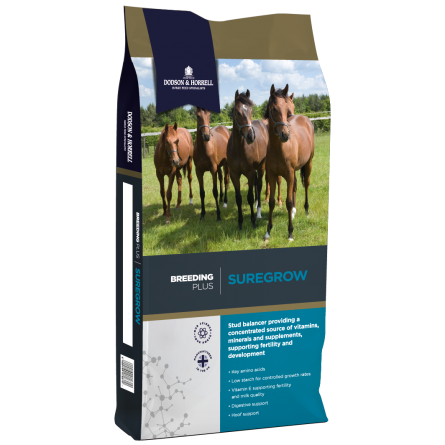 by Dodson & Horrell
Code: 2972351 :
Description

`Nutrition

Feeding Guidelines
Dodson & Horrell Suregrow is a Stud balancer providing a concentrated source of vitamins, minerals and supplements supporting fertility and development
Information:               
Key amino acids
Low starch for controlled growth rates
E supporting fertility and milk quality
Digestive support
Hoof support
Composition
Dehulled soya bean meal (genetically modified), Wheatfeed, Extracted sunflower, Unmolassed sugar beet, Calcium carbonate, Rice bran, Dicalcium phosphate, Cane molasses, Sodium chloride, Rapeseed oil, Fructose oligosaccharides, Mannan oligosaccharides
Feeding guidelines:               
Feed as below in conjunction with free access to forage. Divide into at least 2-3 meals per day. For use with target species only. Fresh drinking water must be available at all times.
Feeding Rate:
Mares Early Pregnancy: 100g/100kg bodyweight
Mares Late Pregnancy: 150-200g/100kg bodyweight
Mares lactating: 200-250g/100kg bodyweight
Youngstock weanlings: 350-400g/100kg bodyweight
Youngstock yearlings: 200-250g/100kg bodyweight
Stallions light work: 150-100g/100kg bodyweight
Stallions hard work: 200-100g/100kg bodyweight