Pooch & Mutt Bionic Biotic 200g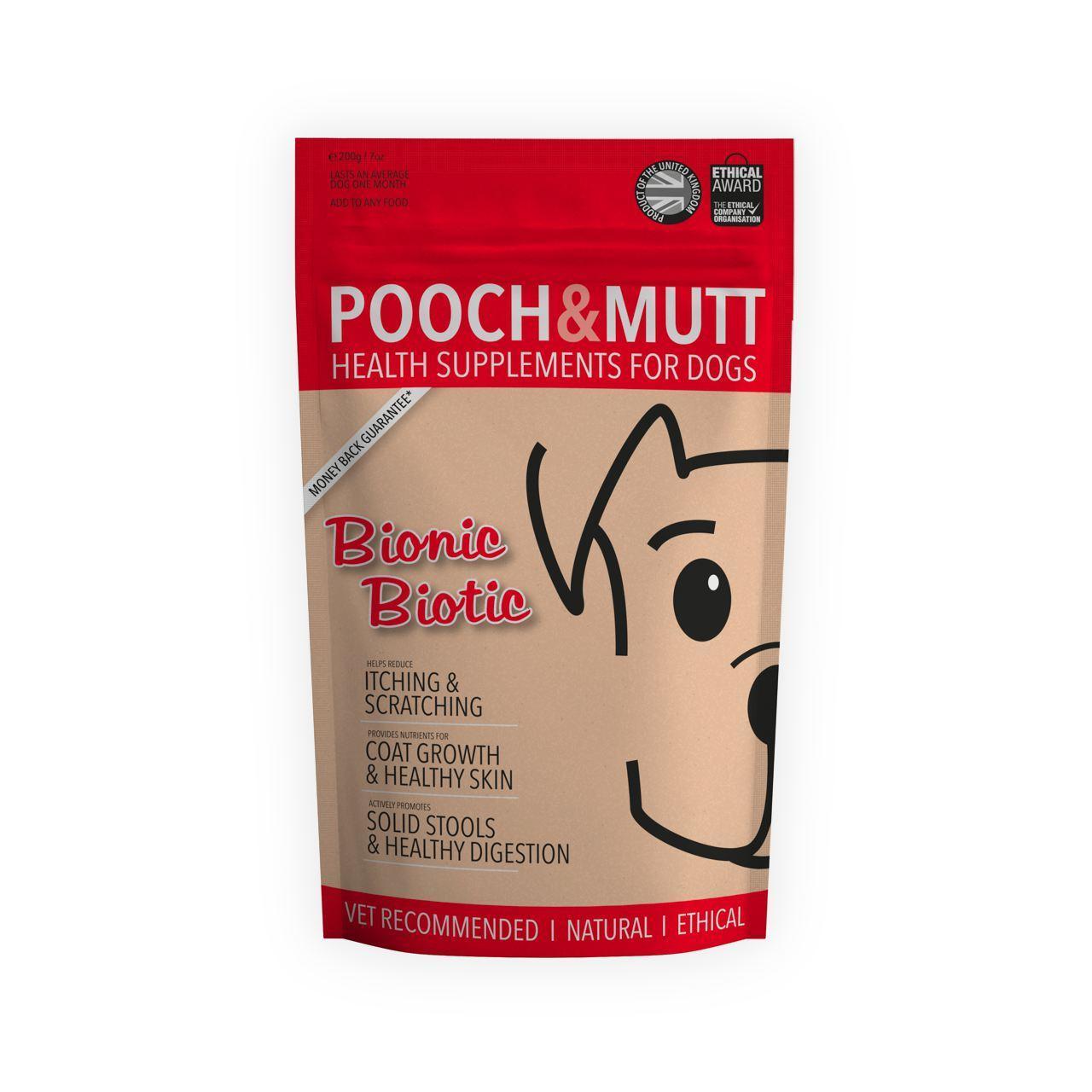 by Pooch & Mutt
Code: 2972741 :
Pooch and Mutt is the UK's first ethically approved canine supplement company. Pooch and Mutt products are of the highest quality and designed to help provide your dog with a happy and healthy life.
Bionic Biotic is a highly palatable powdered supplement , which has a unique blend of 16 natural active Ingredients to help promote: 
 Healthy skin with no itching or redness
 Solid stools
 Optimum weight
 Good digestion 
 A good immune system
 Solid stools 
Ingredients
Canine Specific Probiotic for optimum digestion and solid stools. Helps a dog to retain more nutrients from its food and to excrete more toxins
Omega 3 and 6 promotes immunity, skin and coat. Soothes itchy and scratchy skin
Soya Oil to promote a glossy coat and healthy skin
Antioxidants: Selenium, Vitamins C and E to mop up free radicals
Organic Zinc fed to dogs with excessive hair loss and shedding
Menthol and Eucalyptus with antioxidant properties, for respiration
Biotin for growth, muscle formation, energy, skin and coat
Magnesium for energy, bones, teeth, arteries, heart and nerves
Copper for blood, bone, skin & connective tissue
Iron for bones, blood, coat, growth, energy, immunity and digestion
Manganese for respiration, fat metabolism and skeletal development
Methionine for healthy skin, glossy coat and strong nails. Helps monitor fat build up in the liver and promotes healthy levels of histamine.                    


Feeding Guide
Mix the recommended daily amount with your dog's regular food ( in one feed or split between feeds).
If your dog is at the larger end of the weight range you may need to add an extra half tsp.
Introduce gradually.
For best results feed year-round.
Dogs should have access to fresh, clean water at all times
Recommended daily amounts:
< 10 KG/22lb = 1 tsp per day. Pack lasts 2 months +
10-25 KG/22-55lb = 2 tsp per day. Pack lasts 1 month +
25-50 KG/ 55-110lb = 3 tsp per day. Pack lasts 3 weeks +
>50KG/110lb= 4 tsp per day. Pack lasts 2 weeks +