Halleys Poultry Alfa Peckers 1kg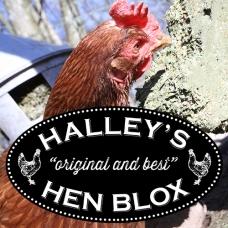 Halleys Hen Blox are an innovative way of keeping your chickens healthy and happy. Each 1kg Hen Blox is packed full of feedstuffs that promote poultry health: alfalfa (Lucerne), wheat, split maize, oyster shell grit and flint grit.
Nutritious distractor for chickens to help prevent feather pecking.
Hens love to peck – which is, of course, fine as long as they're not pecking each other… The problem is that when hens get bored, pecking each other is precisely what they often do. So how can you, as a caring flock owner, deter your chickens from this antisocial habit? Simple! By giving them something much more interesting to peck at...