Rowen Barbary Sumo Original 10kg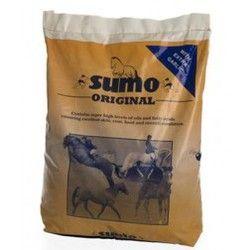 by Rowen Barbary
Code: 2972800 :
Rowen Barbary Sumo Original is the safe & easy way of improving the overall condition & weight of your horse whilst still keeping them on a low sugar & starch diet. You can feed Sumo Original to horses of all ages whether they are youngsters or veterans, the diet is high in oil so to counteract this a high dose of antioxidants, vitamins, selenium & zinc have also been included. By increasing oil content in feed the calorie content also increases without making meal sizes bigger, putting less stress on the digestive system.
Sumo Original is cereal free, low in starch & low in sugar, this makes it perfect for laminitics & those that suffer from EPSM & Shivers.
Ingredients
Vegetable oils, wheatfeed, palm kernel, cereal fibres, vitamins, minerals & permitted antioxidants.
Analytical Constituents
Digestible Energy 24.00 MJ/Kg, Fibre 10%, Oil 50%, Protein 5%, Starch 2%, Vitamin E 1000 iu/kg & Selenium 2 mg/Kg