Simpsons Premium Adult 80/20 Meat and Fish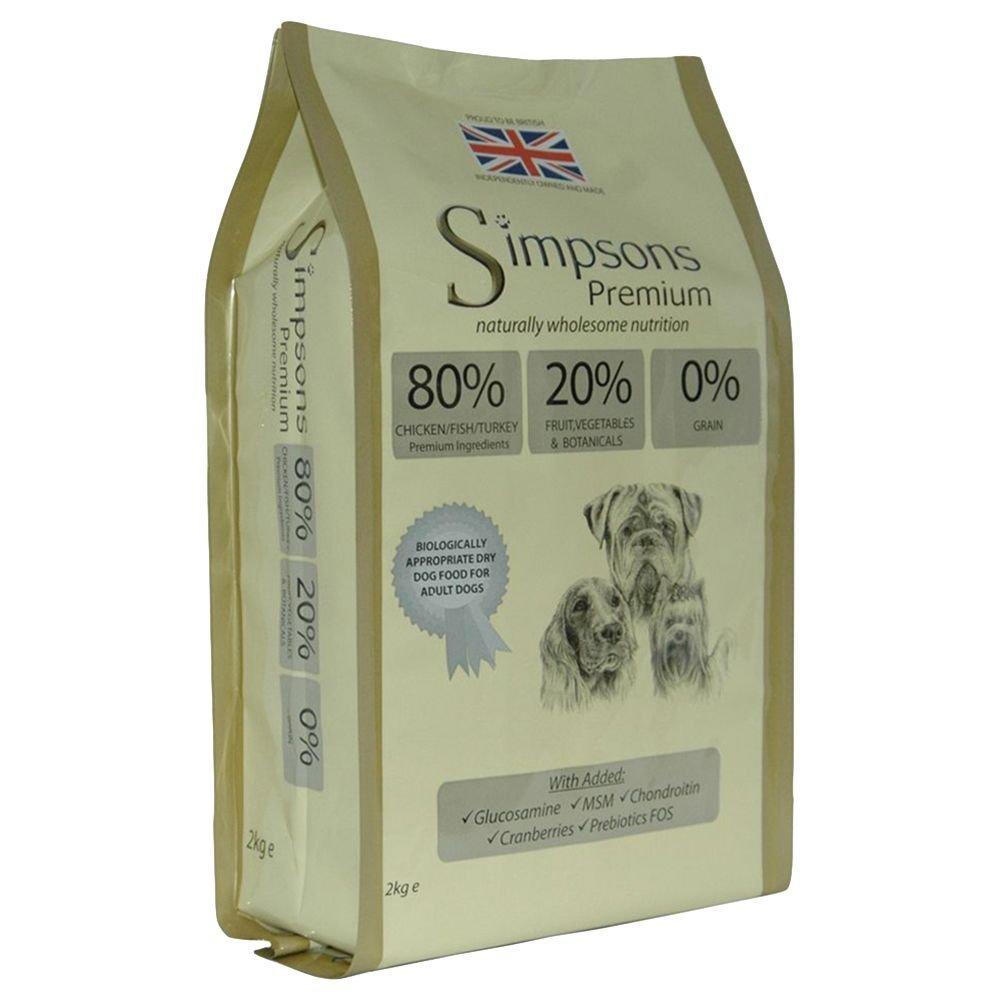 by Simpsons Premium
Code: 3222454 :
A natural hypo-allergenic dog food and the UK's first 80/20 produced range of foods proudly produced in North West of England. 80:20 means the food contains 80% meat products (Chicken,Fish,Turkey), 20% vegetables, fruits and natural supplements and 0% grain. Simpsons products have been formulated using only the best quality ingredients and are grain free, free from wheat gluten, dairy and soya products. The high meat content is of the highest standard and comes from both fresh and dry sources.
Many health problems can be attributed to a poor quality diet such as skin allergies,dietary intolerance, obesity, diabetes, and digestive problems. Feeding a premium grain free quality diet such as Simpsons may help reduce these risks.
Simpsons Premium 80/20 Mixed - Meat & Fish at a glance: 
Hypo-allergenic
Holistic and natural dog food
No cereals
High meat content
No artificial colours, flavours, or preservatives
No GMO ingredients
Human grade meat and fish sourced in the UK
Highly digestible ingredients meaning less to feed - very economical
Contains glucosamine, chondroitin, MSM, prebiotics, and cranberries
Analytical Constituents                        
Protein:  38%  Oil:  18%  Fibre:  3%  Ash: 10.5% Calcium: 2.01% Phosphorous: 1.62%  Omega 6: 2.53%  Omega 3: 1.93% 
Ingredients / Composition                        
Deboned Chicken(27%), Dried Chicken(16%), Deboned Salmon(13%), Sweet Potato, Potato, Dried White Fish(7%), Dried Salmon(5%), Dried Turkey(4%), Chicken Fat(2%), Chicken Gravy(2%), Dried Whole Egg(2%), Deboned White Fish(2%), Pea Fibre, Lucerne, Minerals, Vitamins, Dried Apple, Dried Carrot, Spinach, Dried Seaweed, Dried Cranberry, Prebiotic FOS, Aniseed, Fenugreek, Glucosamine, MSM, Chondroitin, Thyme, Marjoram, Oregano, Parsley, Sage.
Naturally preserved with mixed tocopherols.