Skinner's Puppy Milk 2kg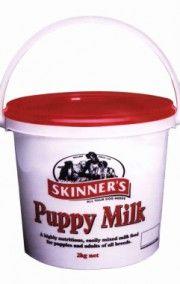 by Skinners Field & Trial
Code: 2972854 :
Skinner's Puppy Milk is a highly nutritious, easily mixed milk feed which can help to ensure the health and vitality of growing puppies and bitches before and after whelping. Skinner's Puppy Milk is made from wholesome cow's milk, with some of the hard-to-digest fat removed then supplemented with all the vitamins, minerals and trace elements needed for healthy growth. Lactose, or milk sugar provides energy for growth, whilst a balance of protein is essential for bone and muscle development. Calcium and phosphorous help to form healthy bones and teeth, whilst a range of trace elements ensure the proper working of the immune system.


Additives
Nutritional additives per kg: Vitamin A 50,000 iu, Vitamin D3 3,000 iu, Vitamin E (as alpha-tocopherol acetate) 300 iu. Trace Elements per kg: Iron (as ferrous sulphate monohydrate) 80mg, Iodine (as potassium iodate) 1mg, Copper (as copper sulphate pentahydrate) 5mg, Manganese (as manganous sulphate monohydrate) 20mg, Zinc (as zinc sulphate monohydrate) 40mg (as zinc chelate of amino acids hydrate) 30mg, Selenium (as sodium selenite) 0.2mg. Contains EC permitted antioxidant.
Composition
Skimmed milk powder, vegetable oil (palm and coconut), whey protein powder, dried yeast, vitamins, minerals and trace elements.