Wagg Complete Puppy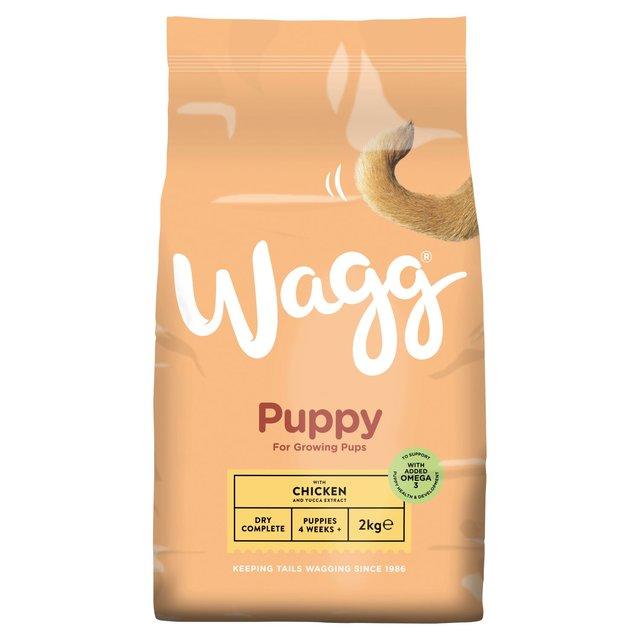 Wagg Complete Puppy Food that has been formulated to give puppies the best start in life. High quality protein and calcium sources have been added allowing for the development of strong muscles, joints and bones.
Benefits 
No artificial colours or flavours - At Wagg we use colours from a mineral source found in nature and we don't add artificial flavours to any of our foods
Healthy teeth - Our crunchy kibbles help keep teeth and gums clean
Healthy digestion - Quality fibre and added mannan oligosaccharides (a prebiotic) help to support a healthy digestive system
Strong immune system - Added antioxidant vitamins A, E & C and citrus extracts help to support a healthy immune system
No added sugar - We don't add any sugar to our dog foods
Healthy skin & glossy coat - With added zinc and a balanced ratio of omega 6 & 3 fats to help support a healthy, supple skin & glossy coat
Composition
Cereals, Meat and Animal Derivatives (22%, including 4% chicken), Vegetable Protein Extracts, Oils and Fats, Derivatives of Vegetable Origin, Minerals, Yeasts (MOS 0.1%), DHA (0.1%), Citrus Extract (0.04%), Yucca Extract (0.01%), Nucleotides (0.005%).
Nutritional Info
Protein 28%, Fat Content 11%, Crude Fibre 3%, Crude Ash 8.5%, Omega 6 2%, Omega 3 0.6%.