Skinners Field & Trial Chicken & Rice 15kg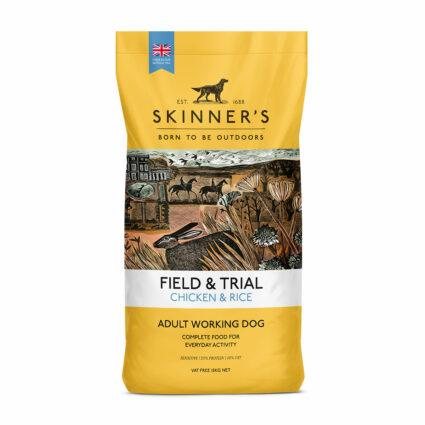 by Skinners Field & Trial
Code: 2973301 :
Field & Trial Chicken & Rice is completely hypoallergenic as it has been specifically formulated to exclude ingredients that are known to cause sensitivities or allergies and therefore reduce the likelihood of these associated skin, coat and digestive problems.

It is free from wheat gluten, maize gluten, barley gluten, soya and dairy products. Made with British chicken meat meal, rice and oats, 
Field & Trial Chicken & Rice also contains all the essential vitamins, minerals and carbohydrates needed for health, vitality and sustained stamina. As a valuable source of energy and to maintain healthy coat condition, Field & Trial Chicken & Rice is also coated in sunflower oil. 
Field & Trial Chicken & Rice also contains enhanced levels of Glucosamine and Chondroitin to help protect the joints of your dog and a unique blend of traditional culinary herbs known for their beneficial properties.


Additives
Nutritional additives per kg: Vitamin A 13,000 iu, Vitamin D3 1,925 iu, Vitamin E (as alpha-tocopherol acetate)
310 iu. Trace Elements per kg: Iron (as ferrous sulphate monohydrate) 40mg, Iodine (as calcium iodate anhydrous) 1.5mg, Copper (as cupric sulphate pentahydrate) 5mg, Manganese (as manganous oxide) 25mg, Zinc (as zinc oxide) 100mg (as zinc chelate of amino acids hydrate) 30mg, Selenium (as sodium selenite) 0.1mg. Contains tocopherol rich extracts of natural origin (Vitamin E) as EC permitted antioxidant.
Composition
Brown rice (39%), chicken meat meal (22%), naked oats, peas, wohle linseed, beet pulp, sunflower oil, vitamins, minerals and trace elements, culinary herb mix.